How Do We Love Our Divided States of America?
Naima Lett, Hollywood Christian BLOG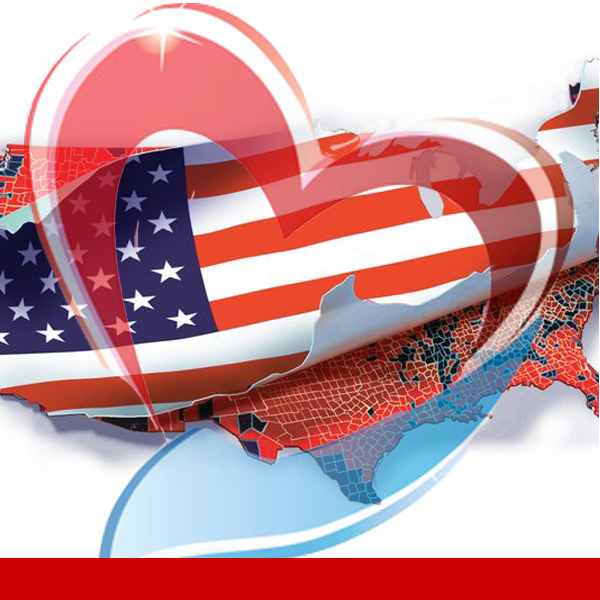 © NaimaLett.com/blog
How do we love our Divided States of America?
That's the question I've been asking for several weeks as we've approached this Love National week of #LoveActs in our Love Revolution.
Two years ago, in anticipation of the case going to the Supreme Court to legalize same-sex marriage, I wrote the blog, "A Nation Divided: Gay Marriage." But we can pick any number of issues – presidential election, gun rights, abortion, healthcare, immigration, foreign policy, police brutality – and we are a nation who does not agree.
I said in the previous blog that agreement is not a prerequisite for relationship. Agreement is not a prerequisite for love. We the people, We God's people, are called to love our neighbors, even if we don't agree with them. But HOW DO WE DO THAT?
I believe the answer is living out the Love Chapter we've been studying through our daily devotions on Bible.com / Bible App (hopeinthehills). If we apply I Corinthians 13 and approach each person, even in our disagreements, with patience, kindness, contentment, humility, honor, selflessness, gentleness and forgiveness, would love not make a huge difference?
Love Makes A Difference
Kevin and I have been married for 14 years and we do not agree on a whole slew of things, but we choose to love each other. In dealing with recent police brutality, what if we choose to love on cops in our precinct? I'm not oversimplifying and ignoring the huge underlying issues, but we're trying to find a place to start. This week, one of our #LoveActs is to "Buy a Cop Coffee" day where we'll get coffee gift cards and show appreciation to officers that we encounter. Can't this make an impact towards creating a different narrative in the minds of officers who aren't able to see all people as human? I'm praying God's love begins to break down barriers.
On Thursday, our Hope in the Hills family is expressing love by volunteering at Covenant House California in Hollywood. We're helping with set up, serving and break down for their annual summer BBQ helping at-risk homeless youth living on the streets. Homelessness is a big issue in Los Angeles and every major city in America. Some cities have given their homeless one-way bus tickets to other cities. Our states do not agree on how to fix the problem. But we're going to show love to those who are living it out. If you're in the LaLa, join us. If you're around the globe, pray for us, and find ways to reach out in your community.
Let's stop just arguing with folks and start finding win-win solutions that help the ones who need it the most. You can still get in on the #LoveActs for this month. The entire list is here: Love Acts in the LaLa & Beyond. If you've been tracking with us, let us know how it's going. And if you have more ideas on how to love our divided states of America, holler at your girl!
Lots of love from the LaLa,
Naima
Rev. Naima Lett, D.MIN, ABD
The Hollywood Christian®
Author of coming release Confessions of a Hollywood Christian®
RESPOND ON BLOG
Comment below, or
Facebook or
Twitter – @naimalett