Love Acts in the LaLa and Beyond
Naima Lett, Hollywood Christian BLOG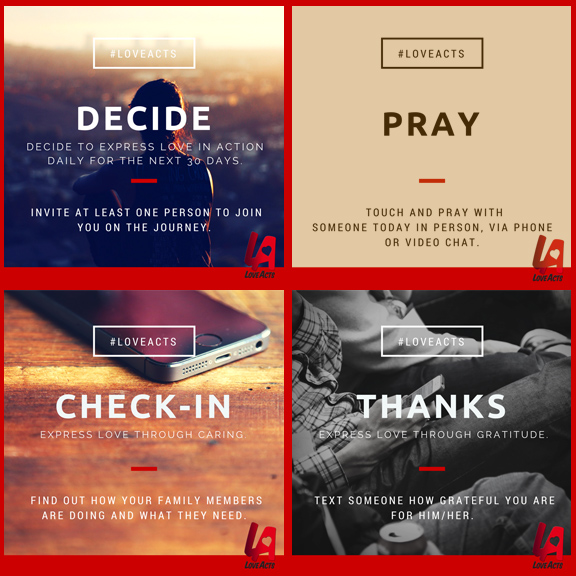 PHOTO: Our 1st four #LoveActs, © NaimaLett.com/blog
QUESTION, FAM:
When you think of the LaLa, do you think of LOVE? When you think of your home city, our nation, our world, does LOVE come to mind? Not really, right?! With all the bad news we hear each day locally, nationally and globally, LOVE lags behind on our top-of-mind list. Yet, LOVE is one of our most basic and important needs. We all need to love and be loved to live fully.
LOVE REVOLUTION
Part of our vision at Hope in the Hills in Beverly Hills is to "love like God loves" so we've looked forward all year to inviting you to join us in living out a Love Revolution in your own communities all over the world. We believe that LOVE is the secret weapon that changes our world. LOVE is what led Emanuel AME in Charleston to forgive the 21-year old who shot their pastor and members during a bible study in order to start a race war. LOVE is what will topple this #100Days100Nights gang war in South Los Angeles that has released terror and fear upon the community. God is LOVE and God's perfect LOVE casts out fear. Love wins.
LOVE ACTS
As God's kids, we are known by our love. Love is active. LOVE ACTS! Therefore, we're expressing love through tangible acts all throughout the month of August. Please join in wherever you are. Just jump in! Above is a photo of our 1st four love acts. You can find the entire original list that we created here OR at the end of BLOG:
LOVE ACTS 2015: THE LIST
#LoveActs
Also, each day, you can see the daily actions posted throughout social media. Some of you are connected through my pages at:
Facebook | Twitter
Others are connected through HOPE's pages:
Facebook | Twitter | Instagram
Enjoy! Share! Re-post! Please use #LoveActs
Each morning by 5 AM PT, I still write a Daily Devotion in the Bible App. If you're connected to HopeintheHills through a Bible.com account, you'll receive an email each day.
Throughout the month, we're also highlighting friends and ministries who are showing love in amazing ways. And if you're in the LaLa, mark your calendar for THURS, 8/20 evening. We will serve and volunteer as a group at the Covenant House, "a non-profit agency whose mission is to reach at-risk homeless youth living on the streets and offer them hope and opportunities to turn their lives around."
PLEASE LET US KNOW
And please let us know what #LoveActs you decide to do in your homes, jobs, cities, and nations. Post your photos and messages. We look forward to hearing what GOOD NEWS comes from our steps of faith, showing love and shining light in our world.
Lots of love from the LaLa (literally!),
Naima
Rev. Naima Lett, D.MIN, ABD
The Hollywood Christian®
Author of coming release Confessions of a Hollywood Christian®
RESPOND ON BLOG
Comment below, or
Facebook or
Twitter – @naimalett
LIST: