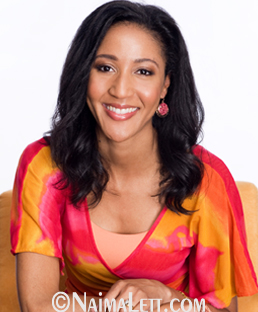 Dr. Naima Lett loves bridging the gap between faith and Hollywood. She is an award-winning actor, producer, church planter, educator and author on a mission to help others find their purpose and follow their dreams while deepening our faith. Her candid and humorous storytelling and engaging oration have made her an in-demand speaker and lecturer who boldly proclaims the truth in love and cares for souls in Los Angeles and across the globe.
Naima is producer and co-founder of Lett's Rise!® Productions, co-pastor of Hope in the Hills in Beverly Hills, co-founder Hollywood Christian® , and an award-winning screen and stage actor (SAG AFTRA AEA).
Her upcoming book series, Confessions of a Hollywood Christian® and her global Hollywood Christian® blog have led many to refer to her as The Hollywood Christian® and to seek her out as an expert regarding Culture and Christianity.
Naima recently became the first female graduate with a Doctor in Ministry in Preaching from Talbot School of Theology at Biola University where her research reveals how to understand and effectively minister in specialized communities like Hollywood. Naima was selected as one of fifteen Los Angeles leaders for Pepperdine University's inaugural, 2-year COMMUNITAS Pastoral Program (Feature, Pepperdine Magazine). She was recently invited to speak at Pepperdine's Convocation Chapel on the topic, "Who Am I?". She was also one of thirty leaders for the University of Southern California's Cecil Murray Faith Leaders Institute.
Naima is the first recipient of Dallas Theological Seminary's Masters in Media & Communications and was chosen as the Mary T. Seume Award recipient for being the female master's level student in the graduating class who, in the judgment of the faculty, best evidences well-balanced Christian character, scholarship, and promise of effective Christian service. She served as president of EIKON, DTS' arts group and a Student Government leader. Naima ministered in DTS' Chapel several times as a student and was recently invited back as an alumnus and gave the message, Who Do You Love? (VIDEO).
In addition to acting in television and film, Naima has written and performed several one-woman plays including her signature drama entitled "Shattered Silhouettes" about five Biblical women in theaters, universities, conferences and houses of worship internationally as well as speaking and teaching. Naima has served in full time ministry for over a decade.
Naima's studio credits include Paramount's The Curious Case of Benjamin Button starring Brad Pitt, Fox's Prison Break, Lifetime's Living Proof starring Harry Connick Jr, BBC America's Wire in the Blood starring Robson Green, and Lifetime's Inspector Mom starring Danica McKellar. For more credits, see Film/TV – IMDb
Naima received her Bachelor of Fine Arts as the top graduate of Howard University's Theatre Department (summa cum laude), continued her theatrical career at the Tony Award-winning Crossroads Theatre, and studied classical theatre with the British American Drama Academy in Oxford, England. She was an artist and administrator with Max McLean's Fellowship for the Performing Arts for several years.
Naima has been married to her best friend, Kevin, a music producer and executive director, for 15 years after they survived his battle with stage-four Hodgkins cancer the first year of their marriage. She enjoys movie date nights, the beach, dancing and finding great vegan restaurants. If you know of any, please let her know! Contact Naima on Facebook or Twitter.
© 2002-2016 Naima Lett, All rights reserved | Please contact us for permission to duplicate and distribute content. Thank you