Celebrating 150 Years! Howard University | 1867 – 2017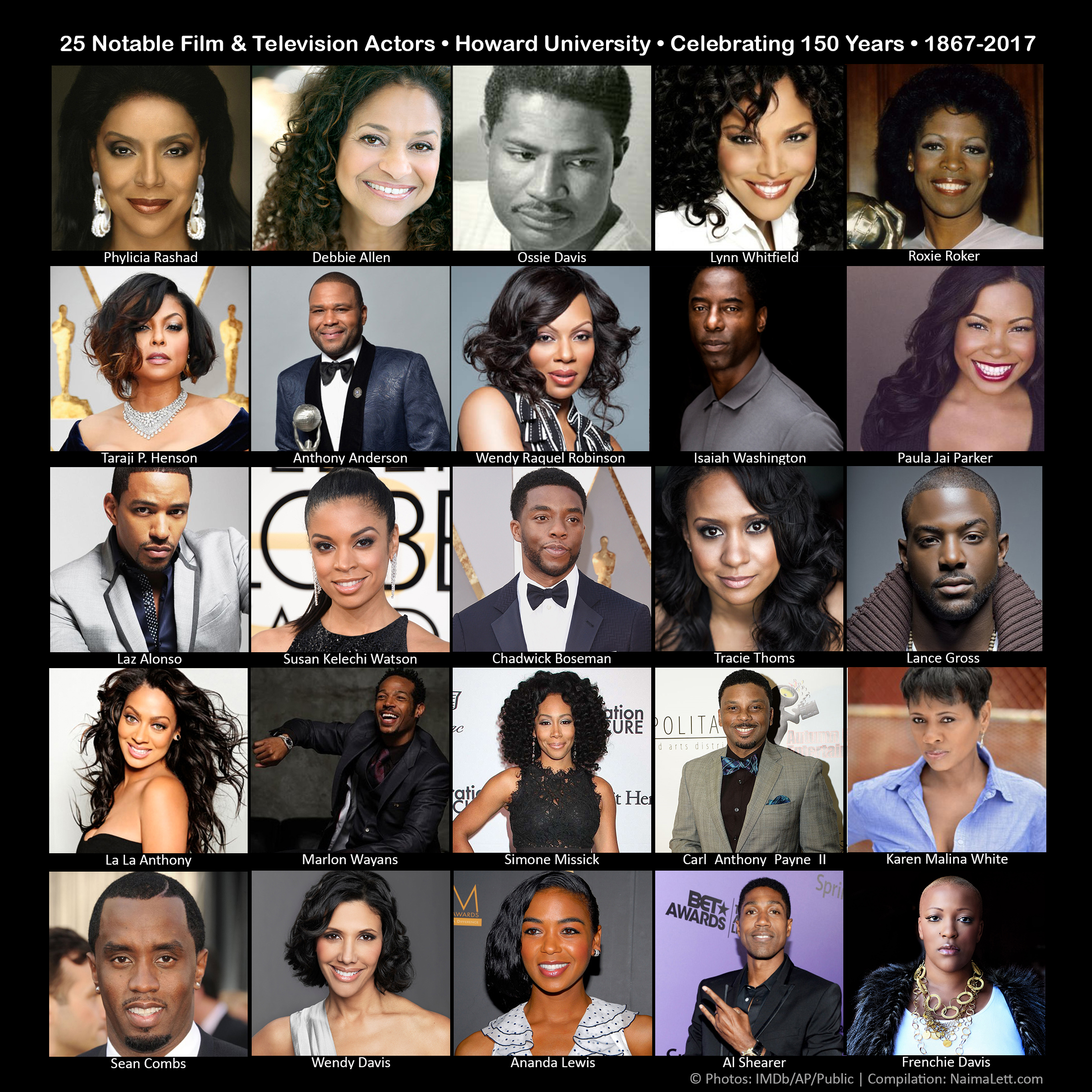 I've wanted to do this for awhile – compile a collage of our über-talened, hard-working entertainment family who have lit up the big and small screens after attending Howard University. "HU! You know!"
Finally! On this 150th Anniversary (HAPPY SESQUICENTENNIAL, HOWARD!), the university asked us to share our experiences. So, I sat down and started creating. This is my love letter to my fellow thespians and to all who have been touched by their lives. This just makes you happy, doesn't it?! Happy and proud and hopeful!
I hope this image does three things:
1) Encourage you.
Behind every photo is a story of drive, perseverance, adaptability, and relationships. There are stories of faith, friendships and family. Many times, when there was no road, these talented brothers and sisters created their own – blazing a trail for many to follow. It's difficult to sustain a career in film and television, yet this crew has been working from 10 to almost 50 years. We salute and celebrate each one of their lives.
2) Display the impeccable education that we received at Howard University.
The sheer volume of accolades this group has amassed on its way to becoming the crème de la crème of our ever-changing entertainment industry is not only impressive, but a testament to the training we received in those hilltop halls of HU! You name it – we've got it: Awards and Nominations galore for Oscar, Golden Globe, Emmy, Tony, Grammy, Image, People's Choice, Blockbusters, Highly-Acclaimed Indies, Long-running series, and on and on. Our artistry will always come first, but it's beautiful when one is recognized for their hard work; and we all knew HARD WORK from Howard.
3) Provide a resource to Next Gen.
One of my brilliant nephews has received a 4-year academic scholarship to Howard in the Fall. Having received a full scholarship myself two decades ago, and knowing that I use every bit of my B.F.A. training each day as a performing artist and pastor here in Hollywood, I recently told my nephew to choose his higher education based on whether or not the alumni from that school are working. He wants to go into sports communication and will have to research that, but I post this image above for every young artist considering where to train.
I chose Howard because of 3 divas you see in that top row: Phylicia Rashad, Debbie Allen and Lynn Whitfield. When I looked at our industry 20 years ago, roles for sisters were few and far between. Halle had not yet won the 1st Best Actress Oscar, and only a couple of sisters had won Supporting Actress. I recently ran the numbers and posted that an African American actress has less than a 1% chance of winning Leading Actress and 1.5% chance of winning Supporting. Yet Rashad, Allen and Whitfield were working in front of the scenes, behind the scenes, snagging awards, blessings folks. I had a Master Class with Rashad at Howard my senior year, and I still remember her encouragement, expertise and poise. When we're dreaming, it helps to see visual images of folks doing what we want to do. May this photo be a resource and visual to all our young dreamers. You can do it too!
The List
This is not an exhaustive list, but ONLY 25 of our most notable film and television actors that most people recognize by name/face. We have TONS of Howard University family who have excelled in directing, producing, theatre & musical theatre as well as in other artistic areas: Literary (Toni Morrison, Zora Neale Hurston, Ta-Nehisi Coates, Amiri Baraka, Paul Laurence Dunbar), Music (Donny Hathaway, Roberta Flack, Meshell Ndegeocello, Crystal Waters, our bro Kenny Lattimore), etc. We also have TONS of working actors who have made a living entertaining and creating works that make our lives better. I know many of them, and they work hard as well. Perhaps in the future, we can compile more lists. Please let us know whom you want to include.
Lastly, before you write and question the photos included on the last row:
– Puffy is known for his business and music; however, the industry recognized his acting with awards and nominations for A Raisin in the Sun and an Academy nod for producing Undefeated. Should he not be included because he creates his own vehicles? This could open debate, but I'm just recording. Consider me a researcher and historian of sorts…
– Ananda has had her own show and is known as a TV Personality, but I personally know her acting chops. I directed her in a piece when we were at Howard. She uses her creative skills in what she does.
– Frenchie is known for American Idol and The Voice, which one could argue is for her singing. But her star is rising, and she's a force onstage and onscreen.
25 Notable Film & Television Actors Who Attended Howard University
IMDb Credits:
1. Phylicia Rashad
2. Debbie Allen
3. Ossie Davis
4. Lynn Whitfield
5. Roxie Roker
6. Taraji P. Henson
7. Anthony Anderson
8. Wendy Raquel Robinson
9. Isaiah Washington
10. Paula Jai Parker
11. Laz Alonso
12. Susan Kelechi Watson
13. Chadwick Boseman
14. Tracie Thoms
15. Lance Gross
16. La La Anthony
17. Marlon Wayans
18. Simone Missick
19. Carl Anthony Payne II
20. Karen Malina White
21. Sean Combs
22. Wendy Davis
23. Ananda Lewis
24. Al Shearer
25. Frenchie Davis
Has this been helpful for you?
Let me know.
Happy 150th Howard! Got nothing but love for you!
Dr. Naima Lett
The Hollywood Christian®
Author of coming release Confessions of a Hollywood Christian®
RESPOND ON BLOG
Comment below, or
Facebook or
Twitter – @naimalett