NAIMA LETT – BLOG – HOLLYWOOD CHRISTIAN
Top 3 Things Marriage Has Taught Us
© NaimaLett.com/blog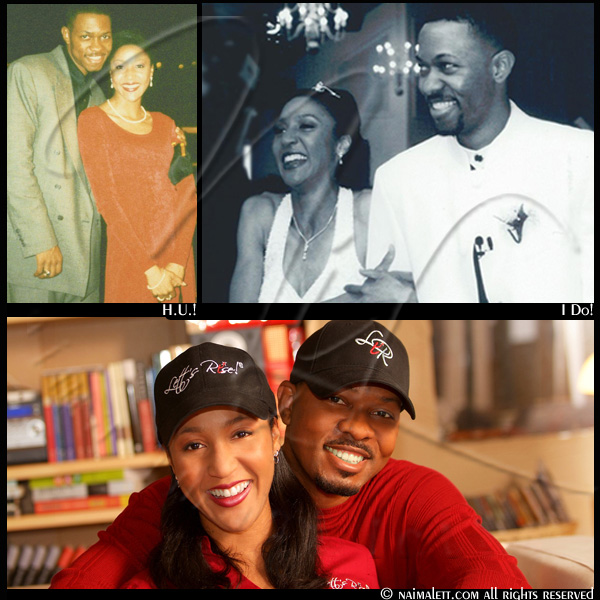 ©NaimaLett.com, All rights reserved

The Top 3 Things Marriage Has Taught Us (From HU to I Do!)
It's 2014, and we've made it to 13, Fam! 13 Years of Marriage!
I'm not superstitious nor prone to numerology. There's no triskaidekaphobia here (fear of #13), so you'll have an impossible time convincing me that we're unlucky. Au contraire, my friend! We're elated. We've had countless adventures crammed into a decade plus three, and as my husband Kevin said this year, "The Best is Yet to Come!" I believe that, especially since we've known each other since we were freshmen at Howard University. (That photo above is on our senior college cruise. We were so young! Yes, I liked red then too. LOL!) So, we could call this the TOP 3 THINGS WE'VE LEARNED ABOUT MARRIAGE FROM HU TO I DO!
Top 3 Things We've Learned
As we reflect, I asked myself and then Kevin: "WHAT ARE THE TOP 3 THINGS MARRIAGE HAS TAUGHT YOU?" Here's what we wrote separately:
Kevin
1. Patience
2. Perseverance
3. Greater hope
Naima
1. Patience
2. How to Love more fully
3. Not to take Life for granted
#1
Did you catch that? I had to laugh. We both immediately concluded that the #1 thing we've learned in 13 years of marriage is patience. Yep. Good, old-fashioned P-A-T-I-E-N-C-E, which is defined as "the capacity to accept delay, difficulty or suffering without getting upset."
Why?
Kevin explains, "Because at some point we have to relinquish the desire for control or power to dictate outcomes. We don't think the same way or respond the same way to given situations although we do often arrive at the same conclusion in our own timing. It takes patience for two people trying to live, learn and love as one to allow that process to occur naturally and organically without pretense or vain attempts to change each other for our own selfish pursuits."
Couldn't have said it better myself! Marriage includes daily deciding to unselfishly function as a team with the same name on the back of our jerseys. Our Lord chose marriage as the imagery to describe His relationship with us, His church. Wow-wee has He had patience with us! And doesn't it seem like we learn more and more patience as we wait on and grow in Him?
What about you?

Whether married or not, we're all in relationships. What have your years in relationships taught you? What's the TOP THING that you've learned?
Have an outstanding Memorial Day Holiday weekend. Lots of love from a soon-to-be undisclosed beach up the coast from the LaLa,
Naima
Rev. Naima Lett, D.MIN, ABD
The Hollywood Christian®
Author of coming release Confessions of a Hollywood Christian®
RESPOND ON BLOG
Comment below, or
Facebook or
Twitter – @naimalett