DAILY DOSE OF HOPE – BLOG – NAIMA LETT
Falling Up Steps… at the Oscars®
LENT DAY 14 of 40, © NaimaLett.com/blog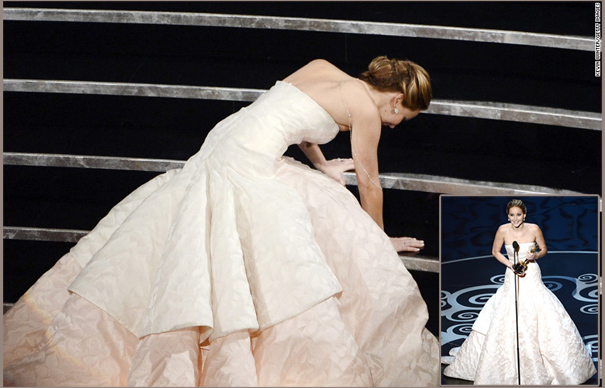 ©Getty, Jennifer Lawrence trips at the 85th Academy Awards®
How does one manage to fall up the steps… at the Oscars®?
Ask Best Actress Academy Award® winner Jennifer Lawrence.
As the 22-year old starlet went to collect her statue on the Dolby Theatre stage towards the end of Sunday evening, she tripped on her Dior Haute Couture gown and experienced what folks are calling "the fall heard round the world." Hollywood's so dramatic!
But I'm not writing this to revel in a fellow artist's awkward-nightmare-come-true. I want to applaud the way Jennifer bounced back. What a recovery!
What a Recovery!
There was absolutely no pretense. Jennifer experienced the fall, took a moment and buried her face in her hands, picked herself back up, mounted the stage, and then acknowledged what had just occurred:
"You guys are just standing up because you feel bad that I fell — it's really embarrassing. But thank you. This is nuts!"
She didn't stay crumbled in a ball on the steps. She got up, chuckled about it and kept it moving! When asked after the awards by a reporter what happened, Jennifer laughed, "What do you mean, 'What happened?' Look at my dress! I tried to walk up stairs in this dress. That's what happened. I don't actually… I think I just stepped on the fabric and they waxed the stairs."
Candid Truth
As someone who has been called candid all my life, I so appreciate a kindred, candid soul! I'd even argue that Jennifer's willingness to be present and honest is what has endeared her to the industry and the public.
On the industry side, Jennifer is highly acclaimed for her work in independent films, winning the Academy Award for Silver Linings Playbook and being nominated for Winter's Bone. On the public side, Jennifer's film, The Hunger Games, broke records last year as the 3rd-largest opening weekend of all time bringing in $152.5 million in three days for a non-sequel film. It went on to make over $408 million in the US and over $686 million worldwide, making Jennifer the highest grossing action heroine ever. Move over Angelina Jolie!
What You See…
During an age of fake reality shows and Hollywood smoke-and-mirrors, people tend to think "what you see is what you get" with Jennifer and they like that. She often puts her foot in her mouth by saying exactly what she thinks instead of what's appropriate.
Jennifer explained to Elle Mag recently, "I never know what's going to come out of my mouth, and it's horrible. When I get older, I'll be more mature and poised… One day, I'm going to grow up…" She even shared, "$10 million (for film) and I'm still living in my parents' condo…I've always lived in a tiny rat-infested apartment in New York, or a little condo in L.A., or a normal house in Kentucky. I think it would be very bizarre to live in a big mansion by myself."
Most folks hear her and think, "She's normal, just like me." That's what makes her likeable. Haven't we all had a tumble or embarrassing moment at some point? We can relate.
Take Notes
I haven't met Jennifer, I don't know her spiritual beliefs, and I can't vouch for her character; but I think we can take notes from the freedom she has experienced in just being who she is.
Jesus told His disciples in John 8:31-32 that if they held to His teaching, "Then you will know the truth, and the truth will set you free." The truth sets us free, especially when we are rooted in Christ's teaching; but also when one is living life without pretense.
So many artists move to LaLa Land and think they have to "become" someone other than who they are to "make it". People climb corporate ladders and morph into different people when they're on the job. Isn't it refreshing today, on this 14th day of Lent, to know that we can just be. Perfection isn't required. And if we fall, we can get back up.
Falling Up Steps
I hope that we never fall up any steps on one of THE most significant days of our lives, but if we do, hopefully we can (like Jennifer) acknowledge it, laugh about it, and keep it moving.
Here's to graceful recoveries,
Naima
What do you think?
RESPOND ON BLOG
Comment below, or
Facebook or
Twitter – @naimalett
© 2013 Naima Lett. All Rights Reserved