DAILY DOSE OF HOPE – BLOG – NAIMA LETT
FROM FAME TO INFAMY
© NaimaLett.com/blog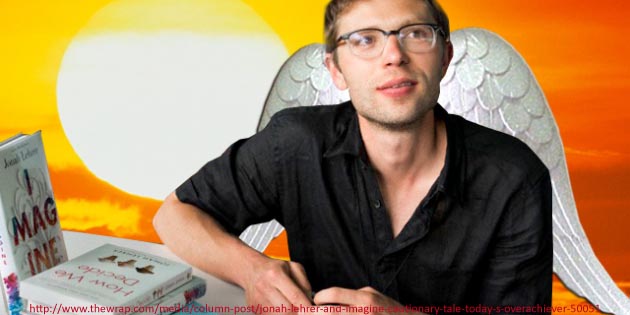 Imagine's Jonah Lehrer, Source: The Wrap
"Bestselling young author with thrilling insights falls from fame to infamy", read one of Sharon Waxman's headlines for The Wrap today.
Got my attention.
Got yours?
Yesterday, 31-year old Rhodes Scholar and bestselling author of Imagine: How Creativity Works, Jonah Lehrer, resigned from his coveted post at The New Yorker, less than 2 months after joining the staff.
What happened?
Apparently, he lied.
He made up quotes in his Imagine book and attributed them to singer-songwriter Bob Dylan. When reporter Michael C. Moynihan interviewed Jonah and asked him about the quotes, Jonah lied, repeatedly, for weeks, until he could not lie anymore.
Jonah's statement:
"Three weeks ago, I received an email from journalist Michael Moynihan asking about Bob Dylan quotes in my book 'Imagine. The quotes in question either did not exist, were unintentional misquotations, or represented improper combinations of previously existing quotes. But I told Mr. Moynihan that they were from archival interview footage provided to me by Dylan's representatives. This was a lie spoken in a moment of panic. When Mr. Moynihan followed up, I continued to lie, and say things I should not have said…The lies are over now. I understand the gravity of my position. I want to apologize to everyone I have let down, especially my editors and readers. I also owe a sincere apology to Mr. Moynihan. I will do my best to correct the record and ensure that my misquotations and mistakes are fixed. I have resigned my position as staff writer at The New Yorker."
The literary world is stunned. Because Jonah was one of their wonder-kids.
Jonah graduated from Columbia University in 2003 with a degree in neuroscience. He studied at Oxford University as a Rhodes Scholar. He wrote for The Washington Post, The Wall Street Journal, Wired and The Boston Globe. Some of you have heard him on National Public Radio's Radiolab. He published 3 bestselling books including How We Decide (which I almost purchased in line at FedEx Office a month ago) and had an ambitious speaking schedule. To top it off, he bought the famous, historic Shulman House in the Hollywood Hills for $2.25 million at the end of 2010. He's had a fairy-book decade.
And now, at the age of 31, his career is deemed over. His book has been removed from Amazon.com. E-books and shipments on hard copies have been halted. Like James Frey before him, Jonah is now a marked man.
This is so sad to me.
Why not just do the work and find actual quotes of Bob Dylan if you want to quote Bob Dylan?
Why publish a book with misquotes and non-existent quotes?
Do we not believe that somebody will find out?
When my youngest brother shared with me that he was entering full-time vocational ministry, I gave him the best advice that I could give any minister, advice that I, myself, live by:
1) Sleep with your own spouse only (which he does. He absolutely adores my sister-in-law),
2) Be completely transparent and do right when it comes to finances, and
2) Always do everything in the light. Act like everything that you do will be known.
In other words, live in truth.
Live in the light.
JOHN 3:19-21
19 This is the verdict: Light has come into the world, but people loved darkness instead of light because their deeds were evil. 20 Everyone who does evil hates the light, and will not come into the light for fear that their deeds will be exposed. 21 But whoever lives by the truth comes into the light, so that it may be seen plainly that what they have done has been done in the sight of God.
My brother is a man of integrity. He lives in the light.
Let's all live like everything that we do will be known, either on this side of heaven or the next.
Let's not misquote folks and make up stuff and publish lies.
My heart breaks for Jonah. I do hope that there is redemption and a comeback story somewhere in the works for this young writer. Sounds like he got caught up in the hype. May we all learn from his "cautionary tale".
Light, Fam,
Naima
Walking in the light can be difficult. How do you manage?
RESPOND TO BLOG
Below, or
Facebook or
Twitter – @naimalett