© NAIMA LETT | BLOG | HOLLYWOOD CHRISTIAN

IT IS FINISHED, Fam!
"100% COMPLETE!" read my APP this morning.
We did it! Congratulations! CELEBRATE!!!! A year ago, many of you, locally here in the LaLa and globally through this blog, joined our journey through the entire BIBLE IN A YEAR, reading or listening 15 minutes daily using Bible.com's Chronological Reading Plan. I've read through the Bible many times, but this year with you was truly special. THANK YOU for the privilege of walking with you, writing daily devotions and exploring overall themes on Sundays with our Hope in the Hills family. I will continue writing brief daily devotions in the New Year, available in Bible.com under "hopeinthehills", Facebook, Twitter. God's relentless love has been on full display from Genesis to Revelation, and reading the last chapters this morning remind us that the best ending is a new beginning.
HAPPY NEW YEAR!
So, here's to new beginnings in a brand new year! Happy New Year! 2015 promises to be a fantastic YEAR OF VISION coming to pass. We celebrate 2014 and how God continues to establish us in our Hollywood and global communities. If we had your mailing address, we sent you our YEAR-END newsletter in the mail with highlights and photos from 2014. If you'd like a copy, email your address. Brief highlights are below.
YEAR-END GIVING
If you're still pondering where to invest your YEAR-END tax-deductible giving, Hope in the Hills is good ground. God is moving and shaking here, and Kevin and I are thrilled to be part of His work in Hollywood, our City of Angels, our nation and around the globe. Your giving supports this work and continues to make a lasting impact.
We pray that God's vision in your life manifests in 2015, and that this year, you will grasp how wide and long and high and deep is the love of Christ (Eph 3:18). God's love and presence are truly tangible right now in extravagant ways. Dive in, Fam. Then, pour out!
Lots of love from the La La,
Naima
Rev. Naima Lett, D.MIN, ABD
The Hollywood Christian®
Author of coming release Confessions of a Hollywood Christian®
RESPOND ON BLOG
Comment below, or
Facebook or
Twitter – @naimalett
— 2014's YEAR-END NEWSLETTER HIGHLIGHTS —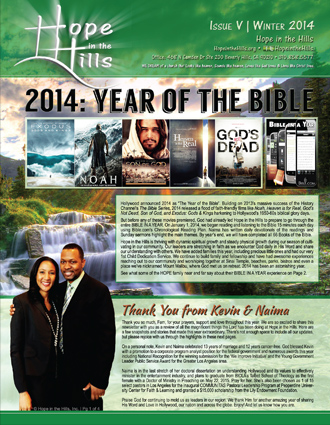 We weren't the only ones focused on the Bible this year. Our Hollywood fam jumped all over faith-friendly films like Exodus: Gods & Kings, Noah, Heaven is for Real, God's Not Dead, and Son of God. The same producers of History Channel's 2013 The Bible series are releasing AD: BEYOND THE BIBLE for Easter 2015 on NBC:
Personally, Kevin and I celebrated 13 years of marriage, 12 years cancer-free. Kevin was promoted and recognized nationally and locally with several awards. I'm working day and night on my doctoral dissertation on Hollywood and Faith to graduate as TALBOT/BIOLA's first female with a DMIN in Preaching, May 2015. Pray for your girl. I've also been chosen as 1 of 15 select faith leaders in Los Angeles for the inaugural COMMUNITAS Pastoral Leadership Program at Pepperdine University Center for Faith & Learning and granted a $15,000 scholarship from the Lily Endowment Foundation. Praise God!
Thanks to all our HOPE fam for your stories and quotes for our YEAR-END news. Also, mad appreciation to Karen Covell and our wonderful friends at the Hollywood Prayer Network for inviting us to host 1 of 10 events during Los Angeles' 10 Days of Prayer for our City of Angels, Hollywood and our Jewish family during the High Holy Days. For our Evening of Prayer and Praise, our diverse WE ARE THE WORLD group of friends, pastors, ministries, and families, including the West Los Angeles Children's Choir, came together to celebrate, and the Lord met us in a special way. We were also thrilled to have our very first Children's Dedication service this year. Good times!
Within the short period between August and October, I was honored to speak on 3 different Pastors Panels discussing Faith and Hollywood: Act One celebrating their 15th Anniversary of training Christians in the entertainment industry, 168 Film Festival of which I've had the privilege of serving as a juror for the past four years, and The Summons, a conference sponsored by the National Day of Prayer Task Force and the Hollywood Prayer Network. The Lord is moving in extraordinary ways to bridge our faith communities and Hollywood. I was also thrilled to be invited back for an incredible week of ministry in New York at Greater Allen Cathedral's international worship conference where I had the joy of preaching, teaching and choreographing a piece for the teenagers to minister during street ministry in the park. What an awesome time!
Again, Happy New Year, Fam! This promises to be a great one! Lett's go forth!
Rev. Naima Lett, D.MIN, ABD
The Hollywood Christian®
Author of coming release Confessions of a Hollywood Christian®
© 2014 All rights reserved