NAIMA LETT – BLOG – HOLLYWOOD CHRISTIAN
Celebration Time! And Our Golden Milestone!
© NaimaLett.com/blog, all rights reserved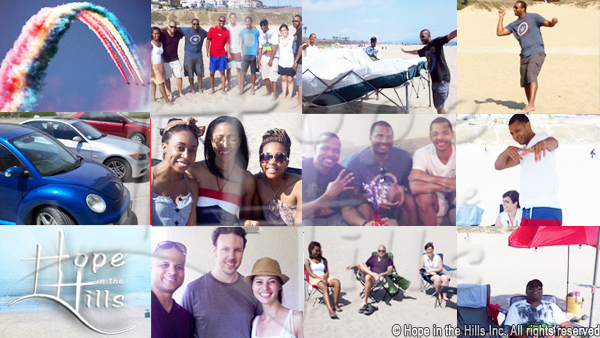 © All rights reserved

"Celebrate Good Times, Come on!"
Kool and the Gang sang it best!
This week, all across America – from the LaLa to the Big Apple to the Big D, from Chi-Town to H-Town to A-Town, from Motor City to Magic City to the City of Brotherly Love – we're all celebrating our country's birthday with one big 4th of July bash! Fireworks, BBQ, music, dancing! It's on!
Last year, Kevin and I had a ball at the beach with family and friends (see photos above), which included one of the most competitive flag football games I've ever seen! There was lots of fun and rolling in the sand. Times like these are the best. And we're back worshiping at the beach come this Sunday, July 6th. Should be a blast!
Congratulations! You're GOLDEN!
This week, we reached our GOLDEN MILESTONE – The Big 50%! YAY! I also want to celebrate and personally congratulate all our blog friends and Hope in the Hills and extended global family that have been journeying with me through the Bible in a Year, reading or listening to 15 minutes daily using the Chronological Plan on Bible.com.
As we completed our 18th book today, Obadiah (the book with one chapter), we pause and give thanks for all that we've learned about our God and ourselves over the first 6 months of the year. It's been a phenomenal journey thus far, and it's great to be doing it together.
How are you celebrating this week?
What are your 4th of July plans?
Have you accomplished a set goal lately?
I'm celebrating with you!
Lots of love from the LaLa,
Naima
Rev. Naima Lett, D.MIN, ABD
The Hollywood Christian®
Author of coming release Confessions of a Hollywood Christian®
RESPOND ON BLOG
Comment below, or
Facebook or
Twitter – @naimalett