NAIMA LETT – BLOG – HOLLYWOOD CHRISTIAN
Reasons to Celebrate
© NaimaLett.com/blog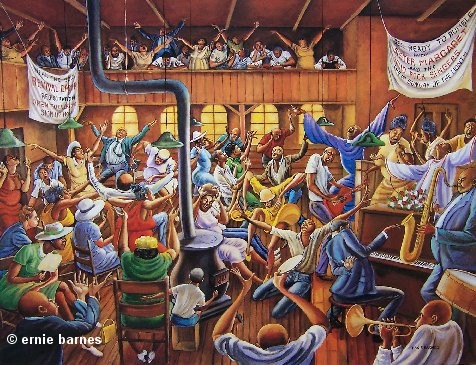 © Ernie Barnes, Solid Rock
I like Ernie Barnes.
The late world-renown painter/actor/professional football player had a way of putting art to canvas that captured the very essence of celebration! From Solid Rock (seen above) to the famous Sugar Shack (seen on Good Times), many of Barnes' paintings express movement and joy and accomplishment. His subjects, living their daily lives, had found reasons to celebrate.
Reasons to Celebrate
I think we should too: find reasons to celebrate, that is. Sure, life ain't perfect, and we can always choose to complain about something. But we could also choose to be grateful and focus on what's on the up and up. That's not to say that we ignore grief or dance on top of sorrow. But instead, in the midst of difficulty, acknowledge the hard stuff and choose to hope.
Easier Said Than Done
This can be easier said than done, but it's possible. While imprisoned for the sake of Christ, Paul writes to the church at Philippi and encourages them to rejoice always and do everything without grumbling. He doesn't say ignore hardship, but to choose to pray instead of worrying and embrace peace. Sounds good to me. What about you? Got peace?
Epiphany
I had some pretty "interesting" things occur in the last couple of weeks that are completely out of my control. I found myself getting a little down this week, but then I had an epiphany: I can't change what has already happened. I can do what I can do and move forward. That's it. Besides, why focus on 'what's wrong' when there are so many beautiful things happening right now.
A Couple of Reasons
I'm so proud of Kevin. He's straight making things happen, and God's favor is all over him. In addition to professional strides, he walked in my office yesterday, in his suit, and I had to catch my breath. He's just F.I.N.E. After 12 years of marriage, and all the ups, downs and sideways we've endured, that man still makes me swoon. That's a reason to celebrate.
Another reason: Our Hope in the Hills fam and many of you kicked off the New Year going through the Bible in a Year. Each person is reading or listening to 15 minutes daily using the Chronological Reading Plan on Bible.com, and we've made it through the first 24 days! At 21 days, folks have formed a new habit and are poised to actually accomplish their goal. So, congratulations! We made it through the Creation, Flood, Job and now we're all up in the stories of Abraham's dysfunctional great-grandkids. Drama! Kudos, Fam! Celebrate!
HAPPY! BY PHARRELL WILLIAMS
What's Your Reason?
It's Friday! I've been enjoying the 2014 Academy Award nominated song "HAPPY" by Grammy Award winning musician/entrepreneur Pharrell Williams. This could very well become this generation's anthem like Bobby McFerrin's "Don't Worry, Be Happy!"
We'll see if the record wins a Grammy Award on Sunday and the Academy Award in March, but in the meantime:
Here's the Original video:

And the Howard University edition. (Thanks E for sharing.)

"Can't nothing bring me down. Love is too high." Pharrell Williams
Can you join me, just for a minute and take a dance break? Even if it's simply that God gave us another day, that's a reason to celebrate!
What's your reason to celebrate?
Lots of love from the LaLa,
Naima
Rev. Naima Lett, D.MIN, ABD
The Hollywood Christian®
Author of coming release Confessions of a Hollywood Christian®
RESPOND ON BLOG
Comment below, or
Facebook or
Twitter – @naimalett