Great Expectations | LENT 2015
NAIMA LETT – BLOG | HOLLYWOOD CHRISTIAN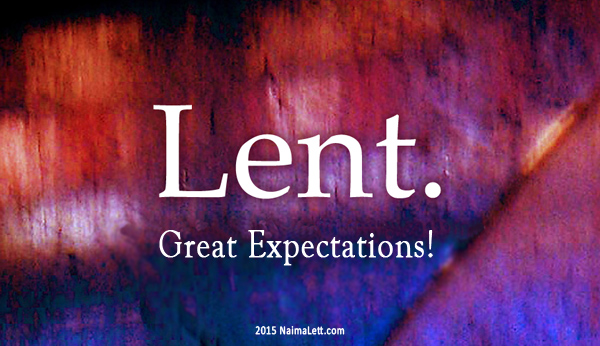 © NaimaLett.com/blog
Hi Fam,
Expectations are tricky. Great expectations, even trickier. What do I mean?
If expectations are too great and not fulfilled OR they're not great enough and nothing happens, we're left disappointed either way. Yet, for this year's Lent, I challenge you to stretch out on faith with Great Expectation.
My God Wasn't Big Enough
I recently had a wonderful opportunity to be invited as 1 of 16 Los Angeles pastors into an inaugural leadership program, and one of our guest speakers told the story of talking with a non-Christian friend in his sunset years.
"Do you have any regrets?" he asks his elderly friend
"I don't live in regrets," Friend responds. "But when I look back, I don't think my god was big enough. I wish I had believed he was bigger."
God Is Great
Well, our God, YAHWEH, Heavenly Father of us and our Lord Jesus, Our God is Great! He's huge. He is big enough, and we can have great expectations in Him. He promises to draw near to us when we draw near to Him and He's a Promise Keeper.
I'd rather have great expectation and risk disappointment if He tells me "Not yet!" or "Not yours!" than to keep things safe and not step out in faith at all, afraid to be disappointed. I'm stepping out the boat, Fam. I've been invited to walk on water, and I'm going for it. Won't you join me?!
Lent 2015
For the next 40 days, (46 days minus Sundays, as traditional LENT calendars exclude the 6 Sundays leading up to Easter as mini-resurrection celebrations), we're observing Lent.
Why?
LENT is traditionally a season of reflection, repentance, and renewal in preparation for Easter in which we choose to give up something in favor of gaining something else. So, we each work out our own fasting and prayer between us and God, choosing to sacrifice whatever is important to remind us to pray. Collectively though, we're in this together globally through daily devotions on Bible.com and locally through weekly worship service at Hope in the Hills. Wow! Has God been meeting us in worship at HOPE! Come on time, Fam! He's with us.
Daily Devotion
Many are already connected with us on the Bible APP and you receive my 5-minute, original Daily Devotion link from Bible.com via email each morning by 5 AM PT that says NEW NOTE. If you don't get it, you can sign into Bible.com and find my username "hopeinthehills" and connect. Others find it on social media on Facebook and Twitter, though signing up in the Bible App is the best. Some days, I don't get to social media. I'm trying to graduate May 22, Fam! Pray for your girl.
Current Posts:
2/18 – OUR HEART'S POSTURE (LENT)
2/17 – LIFE CHANGE, WORLD CHANGE IN 40 DAYS
2/16 – LET'S DO LENT
Lots of love from the LaLa,
Naima
Rev. Naima Lett, D.MIN, ABD
The Hollywood Christian®
Author of coming release Confessions of a Hollywood Christian®
RESPOND ON BLOG
Comment below, or
Facebook or
Twitter – @naimalett