2015 Vision: God Will Do It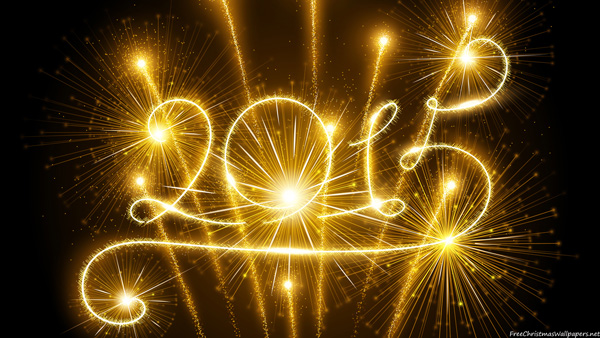 © NAIMA LETT | BLOG

Happy New Year, Fam!
Yesterday, I sent our New Year's message, Happy New Year! It is Finished! including 2014's highlights & photos.
Today, I simply want to share God's word of encouragement for 2015:
2015 VISION: GOD WILL DO IT (EXCERPT)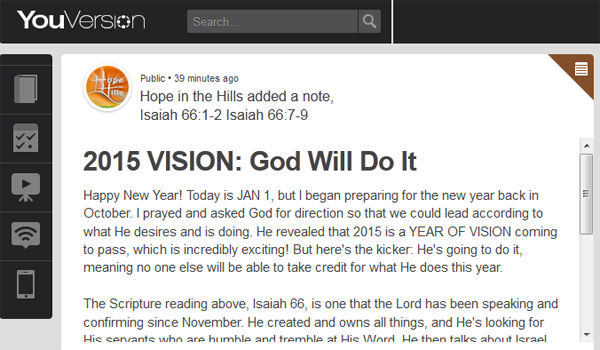 You can find the rest of this short message, including the verses from Isaiah 66, online as part of the public daily devotions I started writing on Bible.com during our BIBLE IN A YEAR series. Many of us are already connected in the Bible APP and you receive the daily devotion link by email each morning around 5 AM PT. If you don't get it, you can sign into Bible.com and find my username "hopeinthehills" and connect. Others find it on our social media. I'll continue writing these brief 5-10 minute devotions, at least on weekdays, as long as it meets needs and you're reading and interacting.
Bottom Line
Bottom line: Having seen a vision 3 years ago of a church that "looks like heaven, sounds like heaven, loves like God loves and lives like Christ lives", let me tell you, I am BEYOND excited about what God will do this year to bring His vision to pass. Kevin and I will continue to do our part as gardeners cultivating the land, planting seeds, watering, tending, and rejoicing when we see fruit. But we are confident in this alone: God causes the fruit to grow (I COR 3:6-9).
Whether you decide to connect with these 5-10 minute devotions or choose to read or listen to the Bible 15 minutes daily using the Chronological Reading Plan on Bible.com, or choose some other method, please decide to spend time with God daily this year, not just talking, but also
listening. He's got a lot to say these days. This is going to be an extraordinary year. Let's keep each other in the loop, okay?!
Here we go, Fam!
Lots of love from the La La,
Naima
Rev. Naima Lett, D.MIN, ABD
The Hollywood Christian®
Author of coming release Confessions of a Hollywood Christian®
RESPOND ON BLOG
Comment below, or
Facebook or
Twitter – @naimalett