NAIMA LETT – BLOG – HOLLYWOOD CHRISTIAN
WE ARE THE WORLD
© NaimaLett.com/blog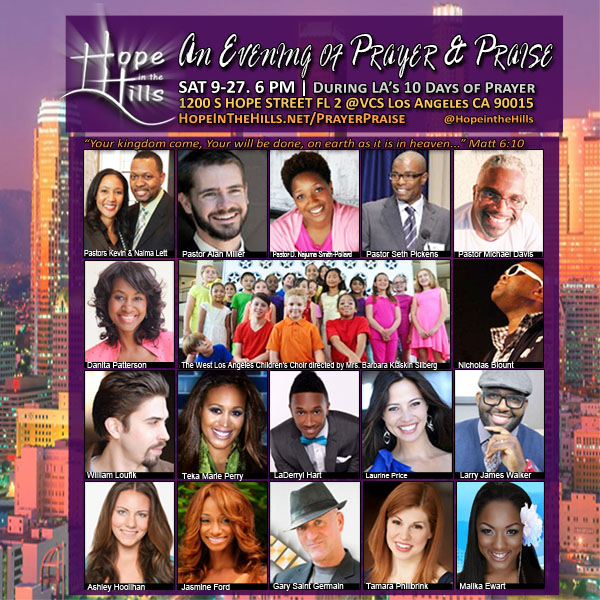 © NaimaLett.com | all rights reserved
WE ARE THE WORLD, Fam.
That's the first thought that crossed my mind as we compiled the diverse photos (above) of our Hope in the Hills Fam, Friends and Guests gathering this Saturday 9/27, 6 PM for our Evening of Prayer & Praise during the National 10 Days of Prayer coordinated in Los Angeles by the Hollywood Prayer Network between Rosh Hashana & Yom Kippur.
THE ORIGINAL
The original WE ARE THE WORLD written by Michael Jackson and Lionel Richie, produced by Quincy Jones, and recorded in studios not far from here in Beverly
Hills and Hollywood, brought together over 40 world-renown singers, raising over $63 million in aid for Africa and the US. The song and video of such unity in diversity spun that single to become the fastest-selling American pop single in history and the first ever certified multi-platinum single. It went on to win several awards in 1985 and sell over 20 million copies. Why?
WE'RE HUNGRY
I think deep down, the experience touched something inside each one of us. We're all desperately hungry for the unity WE ARE THE WORLD represented. Folks put aside their egos and agendas and came together to focus on one goal, one cause. The song raised money for relief from the famine in Ethiopia, but we're all hungry for more, aren't we?
MORE THAN WE ARE THE WORLD
Which brings me to my final thought: "We're more than we are the world. We're out of this world!" Each one of us has a God-sized longing on the inside for more than the brokenness that we see in this world. We long for togetherness and peace and community and that great heavenly multitude that John saw in Revelation 7:9 of all nations, tribes, peoples, and tongues, standing before the throne of our Lord. We long for the healing of our nations and cities and families that only God can bring.
WE'RE COMING TOGETHER
So, we're coming together to pray to God, "Your kingdom come, your will be done on earth as it is in heaven." Matt 6:10 We will pray for unity, the nations, our nation, our families and children, our City of Angels and our entertainment industry. And we will praise God through songs and music and dance. We put aside all egos and agendas. There is only ONE STAR on our red carpet as far as we're concerned, and that's OUR LORD. You are welcome to join us on Saturday. If you're not here in LaLa Land, look on the 10 Days of Prayer and see if there are cities in your area praying and join them. You can pray wherever you are! God's kingdom come, God's will be done on earth as it is in heaven.
Lots of love from the LaLa,
Naima
An Evening of Prayer & Praise
Followed by food and fellowship
SAT. SEPT 27th, 6:00 PM
Hope in the Hills
1200 S Hope Street FL 2
@ Vocal Corner Store
Los Angeles, CA 90015
Please let us know if you'll join us so we have enough food.
RSVP at http://HopeintheHills.net/PrayerPraise
Rev. Naima Lett, D.MIN, ABD
The Hollywood Christian®
Author of coming release Confessions of a Hollywood Christian®
RESPOND ON BLOG
Comment below, or
Facebook or
Twitter – @naimalett