NAIMA LETT – BLOG – HOLLYWOOD CHRISTIAN
Oh, Noah! Controversial New Film
© NaimaLett.com/blog

VIDEO © Paramount's NOAH starring Academy Award® winner Russell Crowe

NOTHING LIKE A HOLLYWOOD film based a Bible story to get Christians all riled up!
Have we seen this much controversy since Mel Gibson produced The Passion of the Christ a decade ago? We're divided like the Red Sea! And I am grateful to be invited back to alma mater Dallas Theological Seminary to discuss this and other current films with Dr. Darrell Bock next week on The Table Podcast.
Oh, Noah!
What's so controversial about Noah? Isn't he the gentle, aged dude with the long white beard calling all animals into an ark two-by-two? Not so much in Paramount's $125 million re-telling of the story by Academy Award® nominated directed Darren Aronofsky (Black Swan), starring Academy Award® winning actor Russell Crowe (Gladiator, Les Misérables). Gentle, elderly dude not included.
Christian Britches in a Twitch
But that's not what's polarizing. What's got Christian britches all in a twitch is the movie based on a Bible story, at first glance, doesn't seem very biblical.
In fact, Paramount recently graciously added the following disclaimer on its website and promotions: "The film is inspired by the story of Noah. While artistic license has been taken, we believe that this film is true to the essence, values and integrity of a story that is a cornerstone of faith for millions of people worldwide. The biblical story of Noah can be found in the book of Genesis."
Biblical story in the Bible
In case you missed that, the filmmakers are very clear: the BIBLICAL story of Noah can be found… drum roll please… in the BIBLE.
As I wrote in my post last year, Hollywood's Flood of Bible Films, I'm not sure why our expectation of Hollywood (which is my family:-) is to produce 100% jot-and-tittle biblically accurate Bible films. When has that ever happened?
Our own Christian filmmakers didn't keep the jot-and-tittle biblical accounts in the recent Son of God film, which was re-cut from the History Channel's The Bible Series, that our faith-filled community pushed to the highest TV mini-series ratings for 2013. Congratulations Mark Burnett (Survivor) and Roma Downey (Touched by an Angel), who is being honored at the national Christian Women in Media conference next week, of which I've been invited to share a second year. We are supportive of their success. However, if our own faith family produces derivatives, why are we livid at "Hollywood"?
I'm seeing Noah in IMAX
My husband and I are going to see Noah this weekend… in IMAX. Why? The same reason we saw The Avengers, Avatar, Transformers, Dark Knight, Superman, XMen, Wolverine and Spider Man in IMAX: they are all grand scale, artistically-engaging, well-made films.
Before You Trash Me
Before you throw me under the bus, as so many of my Hollywood peers have experienced, please know that I take very seriously my relationship with God and His Word, which is alive and active in my life. I have devoted my entire life to the communication of God's Word and Love made manifest through the sacrifice Jesus made on that cross. I am neither double-minded nor simple-minded.
I have had the privilege of serving in vocational ministry and studying and teaching God's Word consistently for over 15 years. That's why I know immediately the deviations in Son of God, Prince of Egypt, Passion of the Christ, and Evan Almighty, which nobody boycotted, by the way. I've been fortunate and blessed by God to study at top seminaries while pursuing a professional career in Hollywood. This is not some flippant post from the right wing or left wing or any wing, for that matter.
Hollywood Christian, Not Easily Offended
I am both Hollywood and Christian, and I am just not easily offended. I am wise as a serpent and gentle as a dove. Our industry (not our faith) is propelled forward by the same motivation that the rest of America's Fortune 500 companies are. There are executives right now trying to figure out how to capitalize off our Christian dollar. Hello, we are seen as a financial base to be wooed and marketed. We've made independent Christian filmmakers with hardly any experience and not-the-greatest products wealthy. I've seen firsthand studios vying for a piece of that pie.
Nobody ever said that piece would be biblically accurate. It would be great if it were, but I don't expect it. Do you have a right to express your outrage against Noah and vote at the box office? Absolutely! But I have a better idea. Take your friends, hopefully both believers and non-believers, and sit down afterwards over dinner and talk about the movie, what's accurate, what's not. Have a ball!
Or better yet, send us some excellent screenwriters who know how to write a blockbuster film that is of great quality and keeps the integrity of God's Word. Pray for us. Send us the best and brightest to compete. And support those of us who are trying to create material that speaks more Truth. Anybody that wants to invest $125 million into Lett's Rise! for the production of our Confessions of a Hollywood Christian series, please let us know! It's easy to sit around and complain. Let's do something!
Light of the World
The reason I'm not boycotting Noah is because I want to be a part of the discussion and you cannot discuss a film you have not seen. I also know who I am. Jesus didn't say "Hey Hollywood, you're the light of the world." He said His followers are. I am. We are!
I do not expect Noah to be any more biblically accurate than Gravity or 12 Years A Slave. Paramount has already told us what to expect. But will it be an astounding film? Yes! And if we can spend money and go see Son of God in all of its creative license, we can go see Noah too. And we can agree to disagree. I am entitled to my opinion, as you are yours.
Bible in a Year
And if you're really stirred up by all this Bible talk, join our Hope in the Hills and extended internet family as we go through the Bible in a year, reading or listening 15 minutes daily using the Chronological Reading Plan on Bible.com. We are in Book #7, Joshua, and will make it to Book #8, Judges, by the end of the month.
Are you going to see Noah?
RESPOND ON BLOG
Comment below, or
Facebook or
Twitter – @naimalett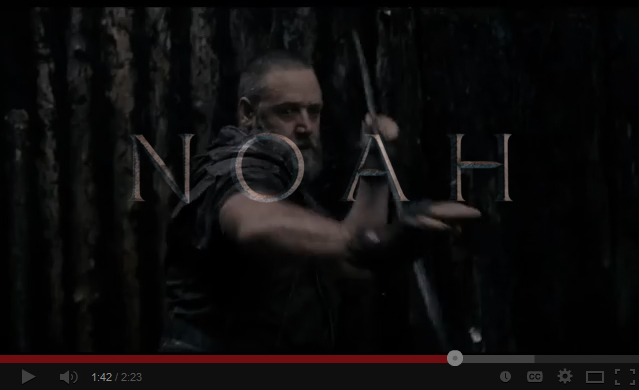 Lots of love from the LaLa,
Naima
Rev. Naima Lett, D.MIN, ABD
The Hollywood Christian®
Author of coming release Confessions of a Hollywood Christian®