NAIMA LETT – BLOG – HOLLYWOOD CHRISTIAN
ACCOMPLISHMENT FEELS GREAT
© NaimaLett.com/blog
PHOTO: First ever US Gold Medal Olympians in Ice Dancing: Meryl Davis & Charlie White, source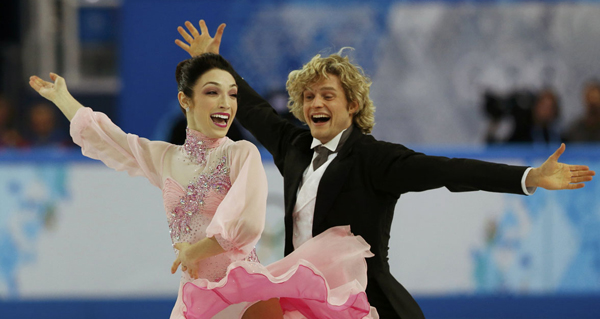 ACCOMPLISHMENT FEELS GREAT!
Ask Meryl Davis and Charlie White (above). On Monday, they made history by setting new world records and becoming the first ever U.S. GOLD Medal Olympians in Ice Dancing.
Yes. I've been watching the Winter Olympics… not as steadfastly as the Summer Olympics since everybody in Sochi looks so cold. But each night, if at home, I've been catching up on world athletes skating, skiing, flipping, dipping, curling and shooting. Biathlon… Who knew?
HARD WORK => SWEET SUCCESS
Proverbs 13:19 begins, "Desire realized is sweet to the soul…" Isn't that true? It's been heartbreaking to watch some Olympians who have worked relentlessly for 4, 8, sometimes 12 years fall or fall apart. But it's been exhilarating to see those who have worked just as hard rise to the top of their game and eke out victory. Success is sweet, especially when it comes after 17 years of skating together.
According to their website, Meryl Davis and Charlie White have put in the hard work and skated together longer than any other US ice dance team – 17 years. Charlie started skating at age 3 and Meryl at age 5, and the soon-to-be-graduates of the University of Michigan became a team by age 10. In their (almost) 2 decades together, they have won 2010 Olympic Silver Medals, 2011 & 2013 World Championships, 2009-2014 U.S. Championships, and 2009-2013 Grand Prix Final Championships. One report said they worked on one of their winning lifts for 2 whole years! There's already talk about Dancing With the Stars.
TEAM WORK
What's even more fascinating is that Meryl and Charlie have been training partners with rivals Tessa Virtue and Scott Moir (CANADA) for 9 years in suburban Detroit under the same coach, Russian-born Marina Zoueva. 4 years ago, Tessa and Scott won the GOLD medals, while Meryl and Charlie took SILVER. This year, Meryl and Charlie took GOLD, while Tessa and Scott took SILVER. There's something about daily working with folks who are in the top tier of your field. There's accountability and the constant push to do your very best.
OUR GOOD NEWS!
Kudos to our Hope in the Hills and extended internet family for our accomplishment thus far going through the Bible in a year. We are currently finishing the Book of Leviticus (whew!), which means we have completed 4 books of the Bible in 2.5 months, reading or listening 15 minutes daily using the Chronological Reading Plan on BIBLE.COM. That's Genesis, Job, Exodus, and Leviticus, and Leviticus was tough going some days. That's why it's good to pause and say, "Good Job! Enjoy! Accomplishment feels great!"
On Sunday, we start the Book of Numbers. If you're just tuning in, feel free to jump in with NUMBERS or start with GENESIS. The point is to encourage each other to spend time in relationship with the Lord each day, and to get to know Him better through His Word.
And know you're not alone. We're all in this together. Similar to Meryl and Charlie training with Tessa and Scott, we're all pushing each other to finish well. I love God's Word, but some days, I was motivated to keep reading about Israel's dietary laws and treatments of skin diseases simply because I knew we would discuss on Sundays. If you're not here in L.A., get a partner, or use the APP to share with me that you're keeping track. It helps.
Whatever goals we've set – gold medals, Dancing With the Stars, or going through the Bible in a Year – let's take a moment to savor the sweet feeling of accomplishment when we've completed a part of the journey. As I finished Leviticus this morning, I could've thrown my hands up in the air and waved to the heavenlies. I may as well had been on the Olympic platform. All I needed was a head wreath and leaf bouquet… and a coat, scarf and skully!
What have you accomplished? Let's celebrate it.
Lots of love from the LaLa,
Naima
Rev. Naima Lett, D.MIN, ABD
The Hollywood Christian®
Author of coming release Confessions of a Hollywood Christian®
RESPOND ON BLOG
Comment below, or
Facebook or
Twitter – @naimalett