NAIMA LETT – BLOG – HOLLYWOOD CHRISTIAN
Why Does Faith Family Barely Care About Emmy Awards?
© NaimaLett.com/blog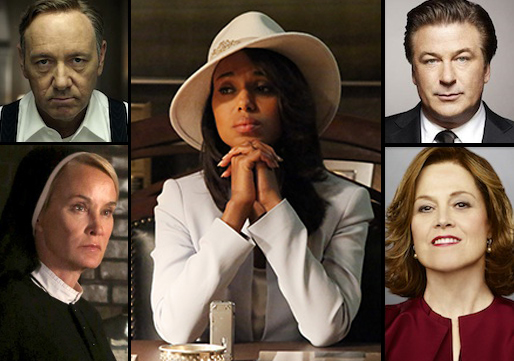 We'll be back next week with STEP 2 of CREATE YOUR WEB ESTATE.
The Emmys are on Sunday, and I try to blog about all the major Award shows: Oscars, Tonys, Emmys, Grammys, etc. So, here we go!
THE 2013 EMMYS
This year, our faith fam has been very ho-hum about the Emmys. And I think I know why:
Mostly because many aren't watching a lot of the shows that are nominated.
With the exception of the History Channel's The Bible Series (which had its own level of controversy within the faith community) being nominated for OUTSTANDING TV MINISERIES OR MOVIE, there isn't really any family friendly shows that made any of the BEST lists that massive amounts of people of faith watch.
SCANDAL
African Americans are elated that Kerry Washington would make history if she wins OUTSTANDING ACTRESS IN A DRAMA, but the faith fam is slow to admit they even watch the show with Kerry's Olivia Pope sleeping with the President, bending truth, stealing elections. There are assassination attempts, suffocating Supreme Court justices, affairs, murders, affairs, murders… you know, SCANDAL!!! Shonda Rhimes is writing that show to the hilt and it's addictive, but at some point, a person with conscience has to pull back and ask, Is this healthy entertainment consumption or are we normalizing bad behavior?
OUTSTANDING?
Of the shows nominated for Outstanding Drama, ALL of them are on CABLE, not regular networks, for a reason: violence, language and sex. Breaking Bad, Downton Abbey, Game of Thrones, Homeland, House of Cards and Mad Men all have healthy doses of most of the above.
What I'm upset about is that, as an artist, I want to watch the shows; but as a person of faith, I'm deeply convicted. This is screenwriting at its best. But Breaking Bad and Game of Thrones are so violent. Mad Men and Homeland are super well written, but we're fast-forwarding through so many sex scenes, we miss half the show! I don't want to see Lena Dunham perpetually naked in Girls or hear Julia Louis-Dreyfus curse everybody out in VEEP.
Do we settle for the regular procedurals that are less provocative? Are we resigned to family friendly reality song competitions? Or do we DVR the Emmy winning shows and fast forward through?
BIGGER ISSUE
Kudos to my fellow actors, actresses, artists and friends who are working. This dilemma is so much bigger than you and your particular role. Honestly, I've been praying about how to change the heart of the system, you know? From the top down and from the bottom up.
The Emmys are just the award ceremony and another way for people to advertise their shows and make money. If we as a faith community understood the power we have based on what we consume and how we spend our resources… well…
What are your thoughts? Are you watching the Emmys? Do you care?
Lots of love from the LaLa,
Naima
Rev. Naima Lett, D.MIN, ABD
The Hollywood Christian®
Author of coming release Confessions of a Hollywood Christian®
RESPOND ON BLOG
Comment below, or
Facebook or
Twitter – @naimalett