NAIMA LETT – BLOG – HOLLYWOOD CHRISTIAN
Miley, Martin, Movies & Labor Day
© NaimaLett.com/blog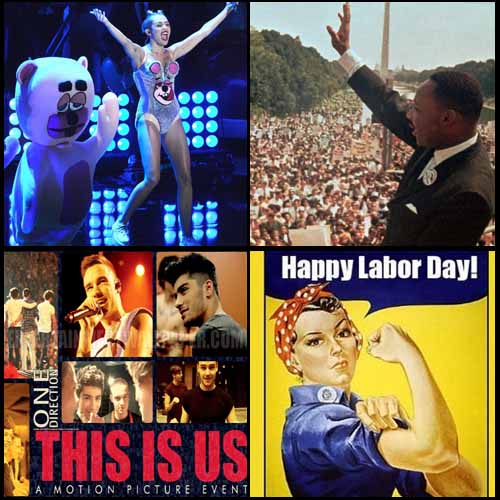 Miley Cyrus, Rev. Dr. Martin Luther King, Jr., One Direction & Labor Day Lady

What a difference a week makes!
MILEY CYRUS
Last week this time, the mention of 20-year old Miley Cyrus' name may have brought up the #1 Richest Teen in Hollywood 2011 title ($120 million) where she trumped Justin Bieber and Selena Gomez, her most successful Disney show Hannah Montana or famous dad Billy Ray Cyrus (Achy Breaky Heart), her on-again, off-again engagement to Australian actor Liam Hemsworth (The Hunger Games), brother of Chris Hemsworth (Thor), or the infamous plug from Jay Z's new album ("Twerk Miley Twerk") which seems to have kicked off a media circus.
But oh, what a difference a week makes! Miley put on a racy show at MTV's VMA awards on Sunday that many said was shocking, confusing, desperate and borderline P0RN. Even though both Miley and Lady Gaga both stripped down to skimpy bikinis during their performances, Miley twerked her way past Gaga's fame to become the MOST TALKED ABOUT EVENT of the night.
Honestly, I was embarassed for Miley, but not surprised. With Super Bowl half-time shows like what we got from Beyonce and Janet Jackson, the fame derived by Kim Kardashian after her sex tape, and the Academy Award given to Halle Berry for those scenes in Monster's Ball, what do we expect?
What other message have we sent to our young women, both Christian and non-Christian, than the BEST way to garner the MOST ATTENTION is to expose one's body or act like a stripper? That's what Miley did, right? Miley didn't invent twerking. She learned it, and according to her, has been practicing in her living room for 2 years to perfect it. Seems like it paid off. Her name is on everybody's lips. She's got a new album dropping. Kanye asked her to do a collaboration that night. She did one with Bieber that "leaked" this week. She's on Cloud 9.
Some are asking about her faith. What happened to Miley's Nashville Christian roots where she was baptized Southern Baptist in 2005? Can I just say that I know lots of Christian women who expose themselves weekly to get ahead in 'the game'. I've seen more boobs and crotch-shots from women of faith than I care to recount. We've gone mad in LaLa Land, Fam!
And why isn't anyone saying how disturbing it is that 36-year old father Robin Thicke, son of actor Alan Thicke (Growing Pains) and husband of actress Paula Patton (Mission: Impossible 4), thought it was appropriate to have Miley twerked over in front of him onstage while singing a song about blurred lines, 'you're an animal', 'I know you want it'? People seemed more upset commenting that his black and white suit looked like Beetlejuice. Madness!
I don't know the parties involved, but I am praying… praying for a different model. Wouldn't it have been great if nobody said anything and I didn't just devote valuable space on my blog to talk about it. If there was no hype, nobody would do it publicly. There would just be a lot of twerking in living rooms across America and nobody would care.
MARCH ON WASHINGTON TURNS 50
In saner news, Rev. Dr. Martin Luther King's "I HAVE A DREAM" speech and the March on Washington celebrated 50 years this week on August 28th. Not for nothing, but this is still one of the most moving speeches ever delivered. It's worth it to listen again.
MOVIES THIS WEEKEND
For this being a holiday weekend, movies are kind of sparse.
You've got ONE DIRECTION'S "This is Us", if you're into teen pop or the thriller "Closed Circuit" about bombings in England. If you haven't seen The Butler, maybe you'll see it. Here's my blog on my thoughts. Sorry, it's a movie-light weekend.
LABOR DAY WEEKEND
Not sure who came up with the photo above of the sister with muscles to symbolize a Happy Labor Day, but just so you know, I'll be doing the opposite. I'm going to sit down somewhere and enjoy family and friends. LOL!
Have a great holiday.
Lots of love from the LaLa,
Naima
Rev. Naima Lett, D.MIN, ABD
The Hollywood Christian®
Author of coming release Confessions of a Hollywood Christian®
RESPOND ON BLOG
Comment below, or
Facebook or
Twitter – @naimalett