NAIMA LETT | BLOG | HOLLYWOOD CHRISTIAN
Kanye, Baby North West & Yeezus
© NaimaLett.com/blog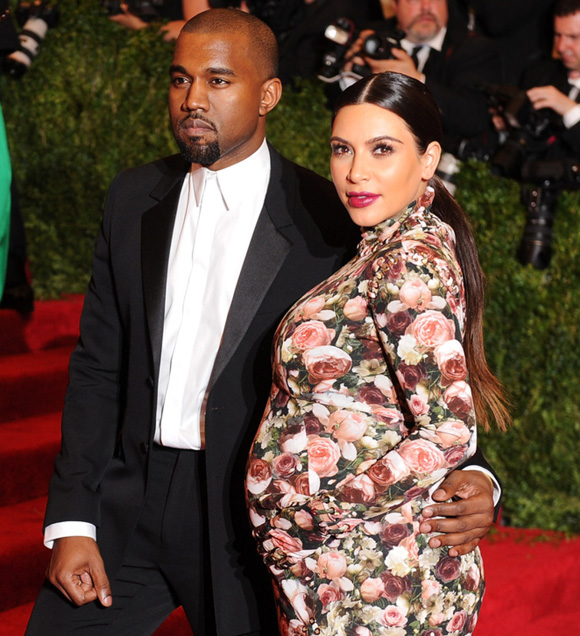 © Kanye West and Kim Kardashian
What a busy month for Kanye West!
June 8 – Turns 36.
June 15 – Has daughter with reality star Kim Kardashian, 32.
June 17 – Drops 6th studio album & 7th #1 Billboard hit, selling 327,000 copies.
Seems pretty normal, right? Only in the world of Kanye.
What's in a Name?
"What's in a name?" Juliet famously asks Romeo, arguing the unimportance of their surnames. But, names (apparently) mean a WHOLE LOT in the world of Kanye. Folks can't stop talking about the name of his baby, his album, and one of his songs.
THE BABY: North West
First, Kanye and girlfriend Kim Kardashian named their newborn daughter North West. Barbara Walters tried to tease, "If they have more children, they can be South West and East West…"
If nothing else, the name is unforgettable. Let's remember Psalm 127:3 that "Children are a gift of the Lord; The fruit of the womb is a reward…" Baby North is a gift, a reward, a blessing. Let's keep her lifted. She's reportedly supposed to make her national debut on grandmother Kris Jenner's (Kim's mom/manager) new talk show, Kris, which starts airing July 15th.
On a side note, some found it interesting that Kim was induced for labor a month early a few days before Kanye's new album dropped. We've probably just been in Hollywood too long to believe that anything is coincidental any more. Should we try to give 'em the benefit of doubt? Or would Kim's original July 15th due date have been too close to the talk show debut?
THE ALBUM: Yeezus
More controversy: Kanye named his album Yeezus, a derivative of his nickname Yeezy and Jesus.
But, be clear, the songs are not an ode to Jesus. It's like how Jay-Z calls himself Hova, as in Jay-Hova, as in Jehovah. That's not out of respect or worship for YHWH (Yahweh). We're still trying to figure out why the two of them thought it was a good idea to collaborate on a song called Lucifer a few years back. Seems like some confusion, right?
Rapper and Yeezus collaborator Cyhi the Prynce gives a different explanation for the title Yeezus in an interview posted on MTV. He says that Yeezus means "Ye is us". Cyhi starts the video by saying, "All of us is Christians. We made 'Jesus Walks'. I don't get how people don't see that. But we want these conversations. This is what we want kids and young adults talking about. What is this Yeezus? If you break it down, Ye is us…" (As in Kanye is us. Kanye is 'the people'.)
In a recent W Magazine article, Kanye is quoted as saying, "I'm Christian in the same way that people have issues with certain elements of Christianity. It's like if you go into a Ralph Lauren store, maybe that buyer didn't do the exact buy that you want, but you still really like that brand."
Ummmm…. OK?
THE SONG: I Am A God (featuring God)
If Yeezus doesn't throw folks off, they certainly don't know what to do with Kanye's new song, "I Am A God (featuring God)." I listened to it and looked up the lyrics (warning: explicit). On the one hand, Kanye says "I know He (Jesus) the Most High", but then he says, "But I am a close high."
This would seem to back up Kanye's friend and collaborator Malik Yusef's twitter explanation that "I Am A GOD" is referencing Psalm 82: "I said, 'You are 'gods;' you are all sons of the Most High.'
If that is true, however, clearly this is a misinterpretation of Psalm 82. When Asaph penned this Old Testament song, he cries out to God for justice for poor and oppressed. The 'you are gods' is followed by 'you will die as mere mortals' in judgment. Context does matter.
IF the lyrics are any indication of Kanye's actual view of God (and that's a very big IF, as we know he's prone to controversial statements), then his theological lens is a bit off. When God says that He is I AM, (YHWH, Yahweh), it's a declaration of His eternal self-existence. He calls Himself I AM in covenant with His people. When Kanye refers to himself as 'I am', he's demanding massages and croissants and telling Jesus he's primary goal is to stack millions.
Jesus says in Mark 10:43-45, "But whoever wishes to become great among you shall be your servant… For even the Son of Man did not come to be served, but to serve, and to give His life a ransom for many." Jesus comes to serve, not to be served. Who is Kanye serving? Jesus dies in order to reconcile Kanye (and all of us) back into relationship with God. Jesus humbles himself to the point of death. Who is Brother Kanye sacrificing for?
North West's Daddy
At the end of the day, Fam, Kanye is North West's Daddy now. And his beliefs will set the foundation for his entire household. He says he was brought up in the Christian faith by his mom and grand-mom. Let's continue to lift him up, Kim and Baby North. Cool?
Have a fabulous weekend!
Naima
Rev. Naima Lett, D.MIN, ABD
The Hollywood Christian®
Author of coming release Confessions of a Hollywood Christian®
RESPOND ON BLOG
Comment below, or
Facebook or
Twitter – @naimalett