DAILY DOSE OF HOPE – BLOG – NAIMA LETT
Wolverine Talks Body Transformation
© NaimaLett.com/blog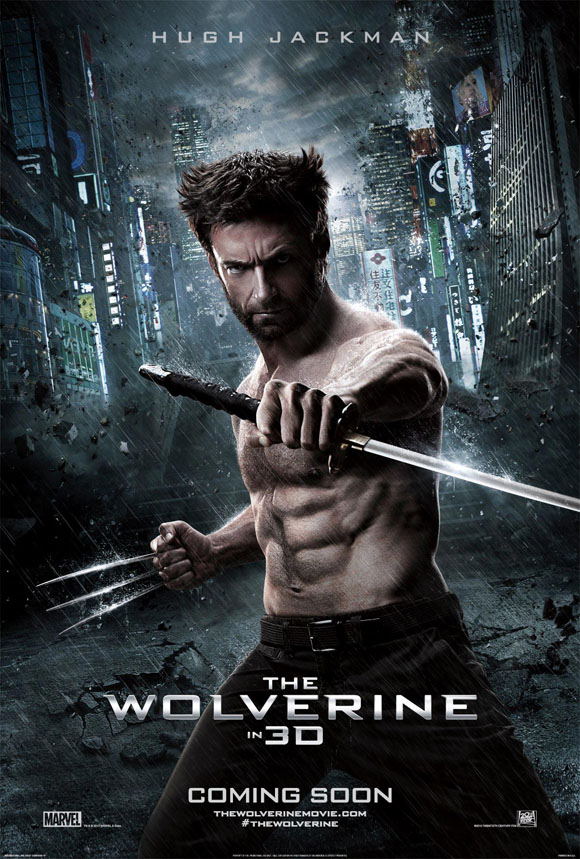 © Academy Award Nominee Hugh Jackman returns as The Wolverine in July.
The Wolverine is back…
and he's talking food.
In several articles released this week, including an interview with CNN, Tony/Emmy/Golden Globe Award winner and Academy Award nominee Hugh Jackman, age 44, talks about his physical transformation from Les Misérables' Jean Valjean's thin physique back to X-Men's muscle-sculpted Wolverine.
70% Is Diet
"70% of the way we look is diet, 30% is training," Hugh shares when explaining that some people erroneously think that getting in better shape is just about training, training, training. "…If there's anything you've got to concentrate on, it's the food," he advises.
Say What?
Now, Wolvy ain't saying training's not important! Mind you, he still worked out 3 hours a day, mentored by friend, Dwayne "The Rock" Johnson. What he is saying is that we are what we eat. We can impact the way our bodies look and feel the most by taking a serious look at what we consume.
Wolverine's Diet
I don't recommend Hugh's diet unless you're filming The Wolverine or competing for Mr. Universe. Most of us aren't 6 feet 2 1/2 inches and most of us don't have to walk around half a movie shirtless. But just in case you're wondering what The Wolve's diet is, here you go:
6 months
6 meals a day only between 10 AM – 6 PM
6,000 calories per day
Protein (i.e. chicken, steak, fish, eggs), brown rice, sweet potatoes, steamed vegetables.
No salt, very little seasoning.
Not for Bulk of Us
The reason I say The Wolve-Master's diet ain't for the bulk of us is this simple revelation: Who has 3 hours per day to dedicate solely to sculpting up and burning off 6,000 calories?
A one-size-fits-all calorie plan doesn't work, but most health authorities agree that a general healthy baseline is 1200 calories/day for women and 1800 calories/day for men. And that's if we're walking or doing something physical at least 20-30 minutes per day.
Wolverinono is eating more than 3 times as much as a healthy man and working out 6 times as long each day. Let's just say Hugh Jackman is earning every penny of his $20 million pay check. And he's smart that he's also a producer on the series, whose origin movie grossed over $374 million worldwide. He's understandably making big sacrifices for a big payoff.
What About Us?
For the rest of us mere mortals, I think the moral of the story is if we want to stay in great shape, we can eat for life and work out periodically. Paul talks about athletes who train and discipline their bodies in order to win the prize in 1 Corinthians 9:24-27. He says, "Everyone who competes in the games exercises self-control in all things." Likewise, he disciplines his body and spirit. So can we.
Why? Because that "70% of the way we look is diet" is true all day long whether we eat fruits and veggies or chocolate covered bon bons.
What do you think?
Naima
Rev. Naima Lett, D.MIN, ABD
Author of coming release Confessions of a Hollywood Christian
RESPOND ON BLOG
Comment below, or
Facebook or
Twitter – @naimalett