DAILY DOSE OF HOPE – BLOG – NAIMA LETT
Remember When the Super Bowl was about Football?
© NaimaLett.com/blog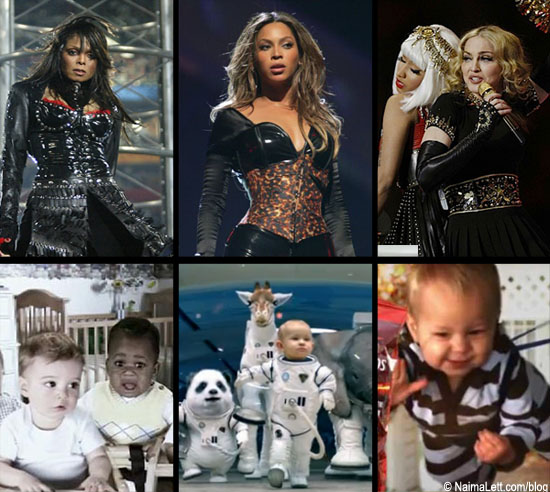 Janet, Beyonce, Madonna, E-Trade, Kia & Doritos babies

Anybody remember when the Super Bowl was about football?
Not anymore, Fam.
Now it's all about snazzy, multi-million dollar commercials with talking babies, astronaut babies and sling-shot-flying babies as well as 1/2 million dollar half-time shows from one-name divas like Beyonce, Janet & Madonna navigating wardrobe malfunctions, leather and wind-blowing machines.
Sorry 49ers & Ravens
So sorry, San Francisco & Baltimore. You thought Super Bowl XLVII was about you!
But there's no way that 111 million viewers (2011 Super Bowl XLV's record as the "most-watched American television program in history") are tuning in just because they love you.
Plenty of us – heart – football. But networks figured out a long time ago that would not be enough to entice fans whose teams were beaten on the way to the Super Fest to buy in.
For example, if I rooted for the Falcons (who, by the way, are reportedly being courted by L.A., of which I am so on board!), and they had a devastating 4-point loss to San Francisco, why do I now want to watch the 49ers ball? To see if Baltimore will exact revenge for Atlanta? What if I don't root for the Ravens? Before yal start sending me emails, this is all hypothetical. I'm not hating on anybody's team. Just saying, it takes more than love to get 111 million viewers.
Enter Cute Commercials & Dicey Half-Time Shows
In order for CBS to sell out of its commercial stock at $3.7- 3.8 million a pop, they've got to get a whole bunch of eyeballs on those wide-screen, flat panel, LCD, plasma and smart TVs.
Thus, we've got all kinds of commercial contests now. Filmmakers solicit votes for their Dorito creations on Facebook and YouTube. Last year, Chevy's contest attracted submissions and votes from 32 different countries. This year, Pepsi asked Beyonce fans to upload videos in hopes to join her onstage during the show. Which brings us to the half-time entertainment.
Michael Jackson changed Half-Time
Before 1993, there was no real half-time show.
Then, 20 years ago, Michael Jackson was booked and everything changed forever. With his performance + the 3,500 kids that showed up during his "Heal the World" set, TV ratings soared and the half-time extravaganza was born.
A little over a decade later, in 2004, Michael's baby sister Janet became half-time infamous, overshadowing all divas before her, including Diana Ross' 1996 air lift, which had to be approved by the FAA.
Folks are still trying to figure out what Madonna's show was about last year with Nicki Minaj and M.I.A., but over 110 million watched it. And that's all that matters to companies paying that $3.8 million for their 30-second commercials.
God & Sports
In my post, God & Sports, I asked the question if God cared who won the Playoffs or the Super Bowl. I could equally ask if He cares about our $3.8 million commercials and divas cart-wheeling off rafters or flying away in helicopters during Half-Time shows. I submit that it's all for entertainment- the game, the commercials, the shows. It's all for our entertainment and companies making money.
As Christians, we're instructed in Paul's letter concerning how we live after we're made alive in Christ: "And whatever you do, whether in word or deed, do it all in the name of the Lord Jesus, giving thanks to God the Father through him." Colossians 3:17
When it's all said and done, whether we're playing football, watching football, filming the commercial, consuming the commercial, entertaining during the half-time show or being entertained, let's do all as unto the Lord, giving thanks to Him.
That means that, though I won't spend a lot of time rooting for San Fran or B-More, I will probably laugh at a couple of baby astronauts and hope Beyonce graces us with her voice this time around.
Let's do this, New Orleans!
Naima
RESPOND ON BLOG
Comment below, or
Facebook or
Twitter – @naimalett
© 2013 Naima Lett. All Rights Reserved