DAILY DOSE OF HOPE – BLOG – NAIMA LETT
WHAT A YEAR! Knocking Out Never!
© NaimaLett.com/blog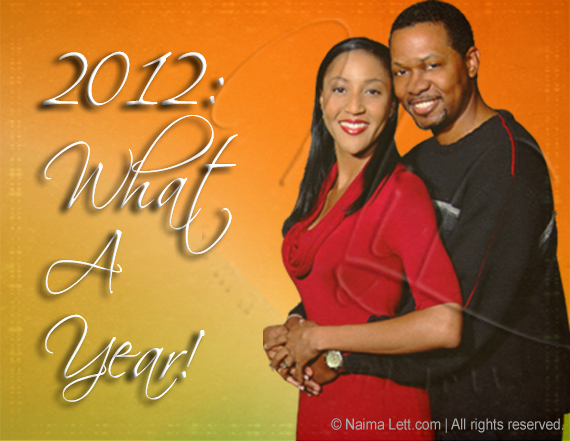 © Naimalett.com, all rights reserved

What a Year, Fam!
Is there anything you said you'd NEVER do? (That's legal, of course! :=)
2012 was a year of Knocking out NEVER for us.
— KNOCKING OUT NEVER! —
Finishing D.MIN?!
When I finished my Masters at Dallas Seminary, I assumed I was done with higher learning. I thought I'd NEVER go back to school. This year, I finished my courses (2010-12) & became the 1st female Doctorate in Ministry candidate in Talbot's (BIOLA) Preaching cohort. Now, I'm researching and preparing to write my dissertation on Hollywood's values and how to serve here in La La Land.
Hollywood Christian!
As we've learned ALLLL that there is to know about the book publishing biz (royalty & self publishing) in preparation to release my upcoming book, Confessions of a Hollywood Christian, I said I'd NEVER obligate myself to daily posts. Didn't quite work out.
This year, my DAILY BLOG about Hollywood and faith took off reaching thousands via email subscriptions, Facebook and Twitter. My pers Facebook maxed out over 5,400, so I had to start a public page (now at 4,150). Several mags & newspapers asked for interviews re: Hollywood Christian. Onward & Upward!
Actor to Pastor?!
I've served in ministry for 15 years, and I said I would NEVER shepherd a church. All that time, I've known my calling to share God's Word & I've done so thru one-woman plays, teaching, preaching. Kevin says he asked me years ago if God was calling to pastor. I have no recollection of the convo. LOL!
Several leaders' confirmations and 4 adventurous years later, we began Hope in the Hills in Beverly Hills with a dynamic team of young dream chasers and dream makers. We dream of a church that looks like heaven (diverse), sounds like heaven (worship-filled), loves like God loves (sacrificially) and lives like Christ lives (radically).
God showed out this year. We just mailed the YEAR-END news. Let us know if you didn't get it. And please consider donating a tax-deductible, YEAR-END gift to help us continue to fulfill our mission to share God's Word and love God's creative children here in Hollywood as much as He does. As one of the most secular regions in our country, this is great soil. We're planting, watering, harvesting. There's hope!
SO WHAT'S YOUR NEVER?
What have you said you'd NEVER do?
2013 is here. What a great year to knock your NEVER out and keep it moving.
Let us know what you have in mind! :=)
Lots of love from LaLa Land!
Naima & Kevin
RESPOND ON BLOG
Comment below, or
Facebook or
Twitter – @naimalett

RECENT BLOGS ON FILM:
Denzel Washington's "Flight" Takes Off
Les Misérables: Best Musical, Full of Faith
Rise of the Guardians: Two Thumbs Up
Django Unchained: Blame Game?
ARGO: Political Thriller, Dose of Fun
Silver Linings Playbook: Funny Spin on Illness
Middle of Nowhere: My Friends' Film
Beasts of the Southern Wild: Fantasies Come True
© 2012 Naima Lett. All Rights Reserved