DAILY DOSE OF HOPE – BLOG – NAIMA LETT
Denzel Washington's "Flight" Takes Off
© NaimaLett.com/blog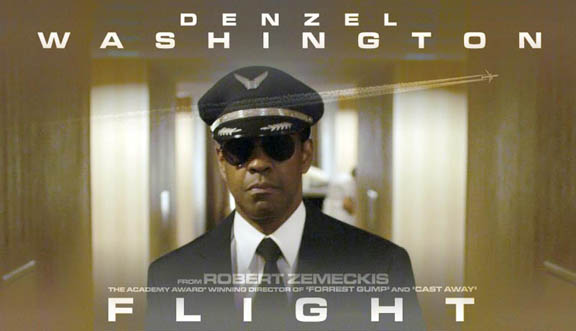 © Paramount, Flight with Academy Award winner Denzel Washington
Two-time Academy Award winner Denzel Washington…
is all the buzz again in Hollywood these days.
By the PR campaigns currently flooding our industry, it looks like a pretty serious Oscar race is gearing up between Denzel for his new film Flight and another two-time Academy Award winner, Daniel Day Lewis, for Lincoln. May the best Academy Award winner win!
As Promised…
As I promised yesterday in my blog, Rise of the Guardians: Two Thumbs Up, in response to your inquiries about my opinion on different films, I will share my thoughts periodically on the latest movies, especially building up to Academy Awards season.
FLIGHT
Paramount's Flight takes off with a bang and brings us along for its bumpy ride.
The official film synopsis reads as follows:
In this action-packed mystery thriller, Academy Award® winner, Denzel Washington stars as Whip Whitaker, a seasoned airline pilot, who miraculously crash lands his plane after a mid-air catastrophe, saving nearly every soul on board. After the crash, Whip is hailed as a hero, but as more is learned, more questions than answers arise as to who or what was really at fault and what really happened on that plane?
Moral Ambiguity
Flight's Academy Award winning director Robert Zemeckis (Forrest Gump, Back to the Future, The Polar Express) describes the film as a "complex drama with moral ambiguity".
I agree.
Sure, there's the "big budget" 20-minute crash sequence that we've all heard about which allows the producers to tout this as an action thriller made for a mere $31 million. But at its heart, this film is a "complex drama with moral ambiguity". And it's that moral ambiguity that Paramount is counting on to win audiences.
But for those of us with moral compasses pointing north, ambiguity can be frustrating. We want to pull for Denzel's Whip Whitaker, but he's making harmful choices. He's not Training Day Denzel, but he's definitely not Glory Denzel either. He's in the middle and Hollywood tends to like that.
I found myself talking out loud to the screen like "C'mon!" Without giving the plot away, let's just say that Denzel is so believable in the role, that if I had seen him when the movie was over, I would've been tempted to tap him on the back of the head like, "What were you thinking?"
The last time I had that kind of reaction was for 2008's The Hurt Locker's explosive expert played by Jeremy Renner. Jeremy has since moved on to several other movies including The Avengers, but every time I see him, I have a visceral reaction because of Hurt Locker.
That's why Denzel will be nominated.
Because we have a visceral reaction which lingers long after the last frame.
One Caution, Maybe Two
Flight is Rated R for drug and alcohol abuse, language, sexuality/nudity and an intense action sequence. This is definitely not the Friday night Family Fun joint for the kids.
The film opens with full frontal female nudity for a good chunk of the first scene, for no reason whatsoever, but to bring that "shock value" that screenwriters believe they have to use to hook their audience. And why is it always female nudity? Could it be because of male writers, male directors, male producers, male studio heads are making movies for themselves? Denzel wasn't naked for the first 4 minutes of the film. Just saying.
Lots of Christians ask me how Denzel, who is very vocal about his Christian faith, can do films with characters with such moral ambiguity. I mean, Denzel just told The Hollywood Reporter that "he studies the Bible daily and says he has just been pondering Psalm 56, with its plea: "Be merciful unto me, O God: for man would swallow me up; the fighting daily oppresseth me."
When he got the script for Training Day, Denzel reportedly wrote across the top, "The wages of sin is death". If you don't recognize that, it's from Romans 6:23, "For the wages of sin is death, but the gift of God is eternal life in Christ Jesus our Lord." Does that allow him to play such rogue characters with no morality? Does this reflect a moral ambiguity in his own life?
Here's what I believe. Denzel is an actor. He chooses films, many times, with redemptive story lines, but he also plays incredibly flawed individuals… because we are all incredibly flawed individuals. He is reflecting back to society what we are: fallen.
Now, as a pastor who has had a career as an actor, I cannot do the same. You would not take God's Word coming out of my mouth seriously if I stripped naked onscreen and cursed everybody out. Be honest. You would crucify me. Which is why I've had the body of work I've had, and why Denzel has the body of work he has. At one point, he says he thought he'd be a preacher. Then he received a prophecy and he went into acting. The rest is history.
Go Fly
If you go experience Flight, and it is an experience, you will definitely take a ride. Other standout performances include John Goodman, Don Cheadle and Melissa Leo. And hey, let me know what you think!
Onward & upward,
Naima
What did you think?
RESPOND TO BLOG
Comment below, or
Facebook or
Twitter – @naimalett
© 2012 Naima Lett. All Rights Reserved