Soaring into History
Naima Lett | Blog | Friday August 3 2012
DAILY DOSE OF HOPE – BLOG – NAIMA LETT
SOARING INTO HISTORY
© NaimaLett.com/blog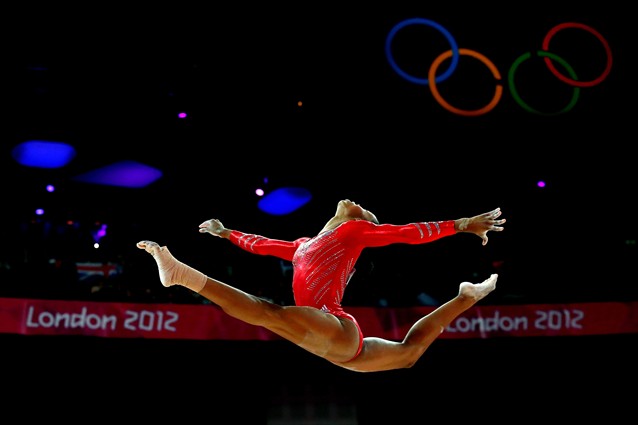 © Ronald Martinez, Getty Images, photo source
VIDEO RECAP
What a way to soar into the history books!
Gabriel Douglas, aka Gabby, the 4'11″ explosive gymnast from Virginia Beach, is America's new golden girl!
Gabby became the only American woman to win gold in both the team and individual all-around Olympic Gymnastics, and the first African American gymnast to win the Olympic all-around title. And she made it look effortless. (VIDEO RECAP)
Gabby led the competition from the beginning with a solid vault, followed by extraordinary performances on the uneven bars and balance beam, and a floor routine to be remembered. She was focused and meticulous the entire night and didn't flash her million-watt smile until after her last event, the floor routine, knowing at that point that she'd done all she could.
When the final scores posted and everyone saw that Gabby was still #1, tears burst forth.
Gabby released tears of joy.
Gabby's mom, Natalie Hawkins, boo-hooed and crumbled into her son's arms.
Gabby's competitor, Russia's Viktoria Komova, sobbed and covered her face, upset to lose the gold medal by only 0.259 points.
Even Oprah cried and tweeted, "OMG I'm so THRILLED for Gabby. Flowing happy tears!!"
It was a moment worth crying over.
Gabby shared this morning on The Today Show that there was lots of blood, sweat and tears on her way to Olympic gold.
Talk about an amazing story.
Gabby entered into gymnastics at the age of 4. At the age of 12, she watched the 2008 Beijing Olympics and knew she would not get the chance to compete unless she had Olympic coaching. She asked her mom if she could train with the coach she saw on TV coaching gymnast Shawn Johnson to her 2008 all-around Olympic Gold. That coach was Liang Chow, an international Chinese gymnast who had moved to Iowa to coach American athletes.
Of course, Gabby's mom, Natalie, said "No!" But Gabby was relentless.
And finally one day, Gabby asked her mom, "What would you do if you were this frustrated and could not get the support you needed on your job?"
That's when Natalie seriously considered allowing Gabby to train with Chow, who presented a clinic in Virginia Beach where Gabby had the chance to actually work with him. But Chow lived 20 hours and 1,200 miles away in Iowa, and Natalie, now a single mom of 4, could not afford to move the entire family to Iowa. Gabby's father was called for a 3rd tour in Afghanistan. Her parents were going through a divorce. Not an ideal situation.
But at the age of 14, Gabby moved to Iowa, not knowing a soul.
Coach Chow found a host family for Gabby. The first one didn't work out and 3 months in was a disaster. Then, Travis and Missy Parton and their gymnast daughters offered Gabby a home away from home. There were times Gabby wanted to give up. She cried everyday from homesickness. She tried to quit. No one around her would let her – her mother, sisters, host family, coach. Talk about incredible support. And it paid off. She adjusted and begin to train.
And just a year and 1/2 later, Gabby stands on top of the Olympic platform, making history.
Is anybody else inspired?
I feel like I can soar too!
What about you?
Through incredible sacrifice, hard work and faith, Gabby did something no other woman has ever done before. Incredible!
Yesterday, Gabby posted on her Twitter the following praise:
Let all that I am praise the LORD; may I never forget the good things he does for me. PSALM 103:2
I love that psalm of David.
PSALM 103:1-5 (New Living Translation)
1 Let all that I am praise the Lord; with my whole heart, I will praise his holy name.
2 Let all that I am praise the Lord; may I never forget the good things he does for me.
3 He forgives all my sins and heals all my diseases.
4 He redeems me from death and crowns me with love and tender mercies.
5 He fills my life with good things. My youth is renewed like the eagle's!
Gabby is certainly soaring like an eagle right now, and remembering to thank God every step of the way. Let's praise God with her and celebrate her history-making accomplishments.

Be inspired, Fam!
Be inspired by Gabby's dedication and sacrifice and willingness to do whatever it takes to reach her goals. And she did so without any unethical, morally questionable athleticism. She showed up every day in the gym and worked. Blood, sweat, and tears.
I also celebrate my husband, Kevin, today. I'm on my way to his promotional ceremonies at his secret-service-type gig. I don't know if I'll ever get used to the "I can't really talk about that…"; but I'm so proud of his dedication and sacrifice and willingness to do whatever it takes for our family. Thank you, Love. He's even being nominated for a national employee of the year award after a year and a 1/2, very much like Gabby's training period. Blood, sweat and tears. Well, if anybody boo-hoos and snouts, that would be me. :=) Proud of you!
What goal do you have today?
Do you need an expert mentor/coach who has a stellar track record?
Are you willing to sacrifice and put in the hard work, training, maybe even move, in order to have a shot at reaching your dream?
At 16, Gabby has inspired, not just an entire nation, but an entire world.
Soar, Gabby, soar!
We're soaring with you,
Naima

What's your goal? Are you willing to do whatever it takes?
RESPOND TO BLOG
Below, or
Facebook or
Twitter – @naimalett
____________
SUBSCRIBE to BLOG
Get BLOG via Email
Enter your info: (*required)