Heart of an Artist
Naima Lett | Blog | Monday June 11 2012
DAILY DOSE OF HOPE – BLOG – NAIMA LETT
HEART OF AN ARTIST


© CBS, Tony Awards, photo source

IF YOU WANT TO KNOW the true heart of an artist…
take 90 seconds and watch the acceptance speech (video above) of now 5-Time Tony Award winner Audra McDonald from last night's historic win for Best Actress in a Leading Role in a Musical for the revival, "The Gershwins' Porgy and Bess".
For the sake of full disclosure, I have to admit that "Porgy and Bess" is not my favorite musical. Frankly, I'm ready for stories that show people of color with hope that don't revolve around drug addiction and sexual exploitation. But that being said, I am proud of Audra and all that she has accomplished.
This is the first win for Audra in the Leading Role category, but she joins the elite circle of 5-time winners including Angela Lansbury and Julie Harris; Audra being the first African American. Trained at The Julliard School, Audra, won 4 previous Tony Awards for Featured roles in A Raisin in the Sun, Master Class, Carousel and Ragtime, 3 of which she won before the age of 30. Add that to 2 Grammy Awards, 2 Emmy Award nominations, and a former series regular role on ABC's Private Practice, the 41-year old mommy has been pretty busy.
With tears streaming down her flawless makeup, Audra laid bare her heart, "I was a little girl with a pot belly and afro puffs, hyperactive and over-dramatic. And I found the theatre, and I found my home. I found a place to express myself. And I was so grateful, even at the age of 9. And to think that the theatre would be so good to me. It's mind blowing…"
AN ARTIST'S HEART
Family within our faith community ask me all the time, "What was she thinking?" or "What was he doing?" when they hear artists' horror stories hitting the media. But if we can understand that what drives artists is what drives all of us, I think it would help us understand one another better.
Two of our most important, basic needs as human beings are:
1) To find our home (safety)
2) To express ourselves (purpose)
Audra said when she found the theatre, she both – found her home and found the place where she could freely express herself.
Notice, the theatre was a safe place, a haven where she could be herself, where she could be who God created her to be: a 9-year old with a pot belly, afro puffs, hyperactive and over-dramatic.
Can I ask a challenging question?
Can artists say this about our faith communities and churches today? Can we find our home, a safe place to express themselves, in the family of God? Many that I meet, on a weekly basis here in the LaLa, recount stories of rejection, abuse and harm from Christians. I'm constantly apologizing for fellow brothers and sisters in Christ, things that we've said and done out of sheer ignorance or disdain.
The truth is that I've also been on the receiving end of some of the attacks. The difference is that I know we're family, so I have a strong motivation to work things out. I'm not going to leave my faith in God because somebody in His family acts out, so I learn to forgive and how to pray for people.
OFFENSES
Offenses go both ways.
The artistic community could also be more sensitive to the family of faith. We could try to understand that the first 5 minutes of the Tony Awards could be utterly offensive to many Christians. Opening the awards show with last year's Best Musical winner, The Book of Mormon is not the way to endear ourselves to people of faith, though I'm pretty sure that offense is the point of the entire musical from the writers who created the controversial cartoon, South Park.
Most Christians would say that they do not believe what Mormons believe; so when they see the Tonys open with such a flippant use of the name of their Lord, it's a turn off. Many Christians don't know what to do with Judas as a rock star making accusations against Christ in the production of Jesus Christ Superstar or the teeny-bopping portrayal in Godspell.
People of faith are thinking, "What in the world are you doing with our faith?" Don't portray us like that.
UNDERSTANDING EACH OTHER
Kevin and I work relentlessly to build a bridge between our two seemingly different worlds of "ministry" and "industry". But they're really not all that different. Why? Because 1) we consider all of life as ministry, which means service, and 2) whether serving as full-time vocational ministers or Hollywood producers, we're essentially called to care for people.
We're all PEOPLE. That's the common ground.
What brings all of us together is that we are all people. We all need a safe place. We all need a home. We all need a place to express ourselves.
In dealing with relationships and how His followers are to treat people, Jesus says we are to love people, including those we consider to be our enemies.
MATTHEW 5:43-48
The Message
43-47″You're familiar with the old written law, 'Love your friend,' and its unwritten companion, 'Hate your enemy.' I'm challenging that. I'm telling you to love your enemies. Let them bring out the best in you, not the worst. When someone gives you a hard time, respond with the energies of prayer, for then you are working out of your true selves, your God-created selves. This is what God does. He gives his best—the sun to warm and the rain to nourish—to everyone, regardless: the good and bad, the nice and nasty. If all you do is love the lovable, do you expect a bonus? Anybody can do that. If you simply say hello to those who greet you, do you expect a medal? Any run-of-the-mill sinner does that. 48″In a word, what I'm saying is, Grow up. You're kingdom subjects. Now live like it. Live out your God-created identity. Live generously and graciously toward others, the way God lives toward you."
Jesus says God provides sun and rain for everyone. He extends His grace to those who trust Him as well as those who don't. Are we not to follow His lead? Do we only embrace those who agree with us? Or do we love people as God loves them?
Be clear: God is not overlooking the fact that some people reject Him. When it's all said and done, we will all be held accountable for what we've decided about God and His Son. But in the meantime, Jesus seems to be saying, "Love people."
HEART EACH OTHER
In other words, let's heart each other.
Love is paramount.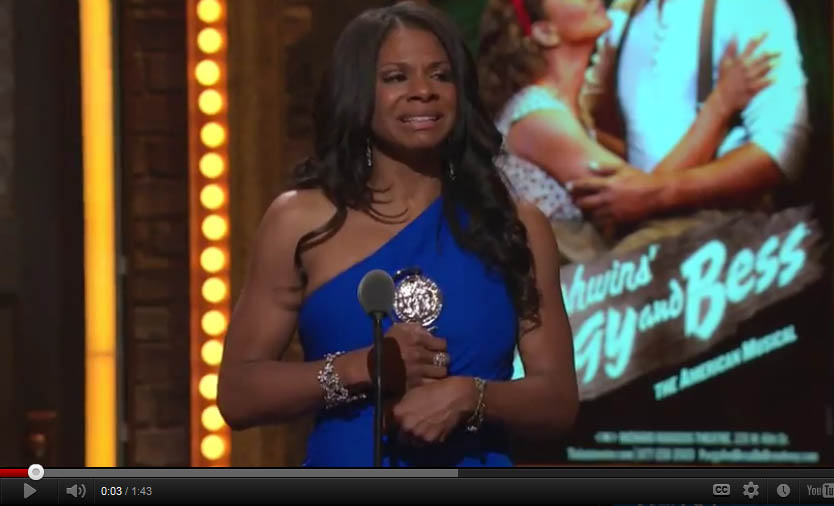 Audra ended her speech with a declaration of love to her family and then to her daughter. She said, "This is an amazing night for Mommy, but February 14, 2001, the day you were born, is the best night ever! Never forget that. I love you."
You just know that Audra's daughter will also have a safe place that's home, that Audra will provide a place for her to freely express herself.
We should do the same for one another.
Let's help each other find home, the safe place where we can freely express ourselves.
Let's care for each other's hearts, not try to break them. :=)
Heart-mending,
Naima
Does this challenge you? Do you agree? Let us know what you think:
____________
SUBSCRIBE to BLOG
Get BLOG via Email
Enter your info: (*required)