Everybody Needs Rest
Naima Lett | Blog | Friday April 13 2012
DAILY DOSE OF HOPE – BLOG | NAIMA LETT
EVERYBODY NEEDS REST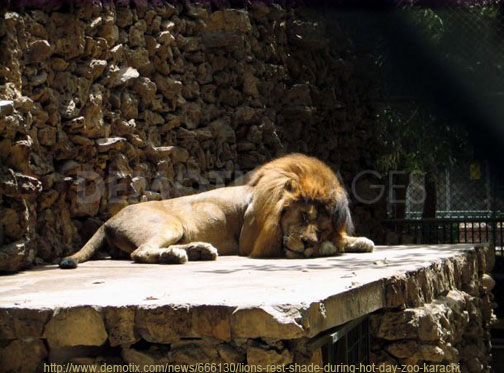 (photo source)

Everybody needs rest…
Even the real Lion King aka Lion of the tribe of Judah.
Every now and then, we see a footnote like the one today and it reminds us that we all need times to escape and reboot. The Son of God did.
Today's Meditation
Read below or click: LUKE 4:40-44
40 At sunset, the people brought to Jesus all who had various kinds of sickness, and laying his hands on each one, he healed them. 41 Moreover, demons came out of many people, shouting, "You are the Son of God!" But he rebuked them and would not allow them to speak, because they knew he was the Messiah. 42 At daybreak, Jesus went out to a solitary place. The people were looking for him and when they came to where he was, they tried to keep him from leaving them. 43 But he said, "I must proclaim the good news of the kingdom of God to the other towns also, because that is why I was sent." 44 And he kept on preaching in the synagogues of Judea.
ALL NIGHT LONG
Jesus has just healed Peter's mother-in-law, Luke 4:38-39 (side note: did you know Peter was married?) and people start bringing all the folks that need healing to Jesus.
It's sunset, and the healing party is just jumping off.
Apparently it goes all night long, because our next time stamp is daybreak.
How exhausted Jesus must've been healing and rebuking all night.
SOLITUDE
So the next morning, He slips off into solitude.
Sometimes, we have to just get-a-way.
And hopefully we haven't waited so long that it feels like we're barreling out a bank robbery like "Drive, BooBoo, Drive!"
Hopefully, we can find a way to prioritize rest in our daily routines.
It's probably fairly easy for those of us who are more introverted to rebuild in solitary places. We cherish solitude. I am able to give and pour out all that I have in ministry because I refuel in seclusion.
That's not to say that I'm Nobel Prize material when it comes to this "rest" thing. The passage today is a reminder for me too. My sleep patterns are all off. It's almost 2 AM, and I am not asleep. I'm writing. Go figure. But I'm writing in solitude. Does that count?
I'm sure solitude sounds even less appealing to our more extraverted fam who are energized in the presence of others. Either way though, intro or extra, we must take some time for ourselves, because needs keep a'coming.
BACK TO WORK
Jesus doesn't get much down time before it's back to work. The people are so enthusiastic about His ministry that they don't want Him to leave. But alas, He recognizes that He has to fulfill His purpose, the reason why He is sent: to proclaim the gospel, the good news, of the kingdom of God to others. So, He's got to keep it moving. Off to the next synagogue to preach!
There will always be work to do.
There will always be needs to meet.
When we can, let's cherish the time that we get to rest and reboot and recharge so we can keep it moving and fulfill our purpose, yes?!
Have a rest-filled weekend!
I might have to find my Lion King dvd:
Remember this one? "The Lion Sleeps Tonight"

____________
SUBSCRIBE to BLOG
Get BLOG via Email
Enter your info: (*required)