Do What You Can Do
Naima Lett | Blog | Thursday July 5 2012
DAILY DOSE OF HOPE – BLOG – NAIMA LETT
DO WHAT YOU CAN DO
© NaimaLett.com/blog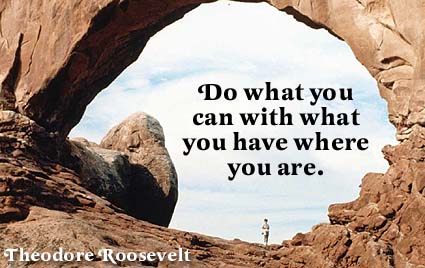 © photo source
"I just need a break!" Frustrated actor exclaimed.
"So, make it happen," I encouraged.
"You don't understand," he insisted.
"Yes I do," I countered. "That's why the best advice I can possibly give you is 'Make it hap!'"
Gone are the days of studios giving actors a "big break", and then grooming young "Elizabeth Taylors" from child actors to screen super sirens, arranging everything from industry marriages to lucrative endorsement deals, and signing movie contracts for 3- 5 films in advance for millions of dollars a piece.
GONE.
Honestly, I'm not so sure those days ever really existed. What was presented to the public were publicity tales woven of rags-to-riches stories starring artists being discovered at El Pollo Loco one day and making $20 million per film the next. It's simply not true.
There's a joke here in Hollywood that it takes 10 working years to become the "next new star". And actually, for my friends who are stars, that's true… unless you are the wife/husband/ daughter/son/nephew/niece/daughter-in-law/son-in-law/mistress/boy-toy of someone who can expedite your journey. If you're working up the ladder, it usually takes about a decade of consistent, relentless working and networking and making others lots of money.
THESE ARE THE DAYS…
These are the days of great opportunity for artist-entrepreneurs and creative visionaries who are willing to hustle and meet people and create fan bases and assemble teams to put together projects that showcase their talent.
Today, the actor/writer/director/producer/singer/songwriter/dancer/artist who works is the one who makes work happen.
I recently saw a YouTube channel dedicated exclusively to introducing new series of famous film actors who are now trying to find work and producing short episodes through the internet to build enough buzz to land television deals for their new series. These are über-famous stars, and they are making work happen. Does not the actor who needs "a break" need to do the same?
There's A LOT of leg work that goes into actually booking a role for a show that is already created. And I love our studio world, but I also know that I have no control whatsoever of whether or not I will actually book a role that has been created by someone else. There are at least 10 levels of decision makers between me and that series regular role on television.
Both worlds – winning created roles by someone else AND creating winning roles for self – are hard work. Both take time and a considerable amount of effort and drive.
I would be bold enough to say that no working artist today is able to wait for "a break". The person who waits is the person who is waiting. The person who works is the person who is working.
DO WHAT YOU CAN DO
So, do what you can do.
Figure out your purpose, desires and dreams, put together a plan, and start working.
I love Paul's testimony to the church at Philippi. When talking about surrendering all of his accolades and worldly success and gains for the sake of Christ, he gives them a little insight to his work ethic. He says that he forgets the past and strains toward his future, pressing toward the goal to win the prize which God called him.
PHILIPPIANS 3: 3-14
Excerpt:
13 Brothers and sisters, I do not consider myself yet to have taken hold of it [my goal]. But one thing I do: Forgetting what is behind and straining toward what is ahead, 14 I press on toward the goal to win the prize for which God has called me heavenward in Christ Jesus.
Paul is talking about his calling and faith; but we can glean much from his attitude. Paul does what he can do. He presses toward the goal. He's not waiting around for someone to come and invite him to do ministry. He goes out and starts churches. He rolls up in the synagogues or street corners and starts preaching. He keeps pastoring and checking on his flocks from prison.
Paul takes his cues from God. Once he knows his calling, he pursues and he doesn't let up.
Now that doesn't mean that Paul doesn't live or have a life. He expresses his joy continuously and he's always on some adventure or another. He lives life to the fullest knowing that he's doing what he has been purposed to do.
Whether you're an artist, professional, stay-at-home parent, or student, today, let's make a resolution to do what you can do.
I'm not trying to overly simplify and/or make light of the frustration that we can feel. I'm offering a way to focus and begin making sense out of our situations.
One of the things I do very well is help people find their purpose and follow their dreams without losing their faith. Part of that process is identifying what a person can do and encouraging them to do that, instead of worrying about things that are completely out of their hands.
What's out of our control, let's let go.
What we can do, let's do.
In the words attributed to President Theodore Roosevelt (pictured above):
"Do what you can, with what you have, where you are."
Go forth, Fam!
Naima
What do you want to do today?
RESPOND TO BLOG
Below, or
Facebook or
Twitter – @naimalett
____________
SUBSCRIBE to BLOG
Get BLOG via Email
Enter your info: (*required)