Would you jump? – Day 6/40
Naima Lett | Blog | Tuesday February 28 2012
DAILY DOSE OF HOPE – BLOG – NAIMA LETT
WOULD YOU JUMP? | DAY 6 of 40 (LENT)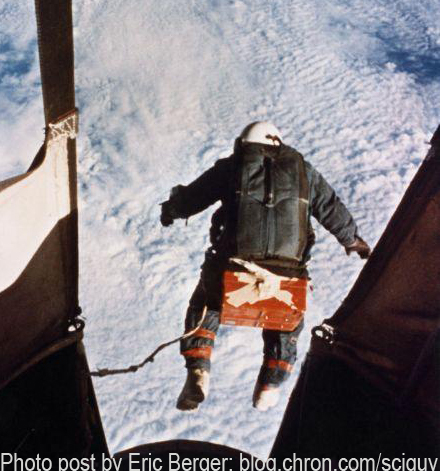 I love jumping – from the floor up! From the sky down, not so much.
Would you jump from a plane? mountain? building? If so, you'd probably use a parachute, yes?!
I wouldn't think of jumping off a building without a parachute. So why satan asked Jesus to just jump off the temple, no apparatus, is beyond me!
Does anybody else read Matthew 4:5-7 and think to yourself that satan missed the mark with this one? Jesus, of course, said "NO!" to the jump, quoted scripture and put his enemy back in his place, but I would've said 'NO!' cause I ain't jumping off this doggone building "Just cause"!
RECAP:
Let's back up.
We saw in Day 2′s devotional "A Beautiful Test?" that the tests we experience (especially during times of prayer, fasting and reflection like LENT), occur in order to reveal to us what's truly in our hearts. We're tested so that we might know the truth about who we are and keep maturing.
Jesus' first test in the wilderness (Matthew 4:1-4) to turn stone into bread and squelch his hunger was a temptation to see if He would satisfy his immediate needs independent of God. Jesus responded by quoting the Word of God (Deuteronomy 8:3) and reiterating how dependent all of us are on God.
TEST 2:
This brings us to TEST 2, today's devotional.
DAY 6: Scripture meditation
TODAY'S EMPHASIS: MATTHEW 4:5-7
Background Chapter MATTHEW 4:1-11
I was being a bit facetious above. But in all seriousness, when I read this scripture, I come to the conclusion that the test cannot just be about the jump. The temptation here is deeper than that. Our clue to what this trial is really about lies in Jesus' response, "Do not test God."
So, this test is about whether or not we should put God to a test. And the correct answer, as quoted by Jesus from Deuteronomy 6:16, is "NO!" It would not be in our best interest to test God.
How do we test God?
When do we jump when we shouldn't?
satan says to Jesus, (my interpretation) "If you're the Son of God (the original language translates that "if" as "since")… so "Since you are the Son of God, jump off this building and according to God's word in Psalm 91:11-12, God will command His angels to save you. In other words, you're God's child. Make God save you. That's a test.
Do we ever do this? Test God?!
Do we think to ourselves, "I'm God's child. What I'm about to do is not the wisest thing in the world, but God will save me, cause He promises He will"?
Anybody think:
"I'm God's child. I can barely pay my bills, but I have excellent credit and absolutely have to have a car in LA; so I'll get one and if I can't exactly afford it, God will save me. He promises He will provide."
"I'm God's child. I really want to sleep with this woman other than my wife. It's alright. God will forgive me."
"I'm God's child. If I run this red light (even though I know that's breaking the law) and get a ticket, God will make it go away. He promises to take care of me."
We do a lot of things to test God and ask Him to prove Himself to us. Apparently, that's not the way to go. God has no obligation whatsoever to come through. God's children flat out were told not to test God. We should carry that lesson over, yes?!
Let's take a moment and ask the Lord to reveal any areas in our life today where we test Him.
When it's revealed, let's repent and ask for help not to keep failing that test again and again.
Let's ask for help to pass that test.
Let's ask for help not to jump off the doggone building when we don't have to.
Sometimes, we can just take the stairs.
PRAYER:
1) Confession & Repentance – Let's confess our wrongs and ask forgiveness
2) Complete honesty & transparency – Let's let our guard down and really talk to God about the truth of our lives.
3) Listen – Let's quiet and listen to God's Spirit re: the scriptures, what we've shared, etc.
4) Intercession for others – Let's pray for our family, friends, coworkers, church, etc.
____________
SUBSCRIBE to BLOG
Get BLOG via Email
Enter your info: (*required)