Don't Worry, Be Happy. Day 32/40
Naima Lett | Blog | Thursday March 29 2012
DAILY DOSE OF HOPE – BLOG – NAIMA LETT
DON'T WORRY, BE HAPPY | Day 32 of 40 (LENT)


Who can forget ten-time Grammy Award winner Bobby McFerrin and comedians Robin Williams and Bill Irwin dancing a hilarious "Charleston" in McFerrin's video of mega-hit '88 Song of the Year, Don't Worry, Be Happy?
If we aren't happy before we see the video, we certainly have reasons to smile afterwards.
As we round the final bases and slide towards Easter's home plate, we've been discussing "Upside Down D" (Discipleship) and the countercultural way of doing things Jesus asks of His followers. One such unconventionalism is Jesus' command: "Do not worry".
Definitely easier said than done.
Who wants to worry?
Yet, how hard is it NOT to worry, when life's curve balls barrel across the mound at 100 mph!
Seems impossible NOT to be stressed out when rent is due, gas is $4.50/gal and the refrigerator looks like an arctic barrenland.
Still, Jesus tells his disciples to leave worry behind, especially when it comes to the basic necessities in life like food and clothing.
Day 32:
Read below or click here: MATTHEW 6:25-34
25 "Therefore I tell you, do not worry about your life, what you will eat or drink; or about your body, what you will wear. Is not life more than food, and the body more than clothes? 26 Look at the birds of the air; they do not sow or reap or store away in barns, and yet your heavenly Father feeds them. Are you not much more valuable than they? 27 Can any one of you by worrying add a
single hour to your life? 28 "And why do you worry about clothes? See how the flowers of the field grow. They do not labor or spin. 29 Yet I tell you that not even Solomon in all his splendor was dressed like one of these. 30 If that is how God clothes the grass of the field, which is here today and tomorrow is thrown into the fire, will he not much more clothe you—you of little faith? 31So do not worry, saying, 'What shall we eat?' or 'What shall we drink?' or 'What shall we wear?' 32 For the pagans run after all these things, and your heavenly Father knows that you need them. 33 But seek first his kingdom and his righteousness, and all these things will be given to you as well. 34 Therefore do not worry about tomorrow, for tomorrow will worry about itself. Each day has enough trouble of its own.
Three times, Jesus says, "Do not worry".
When great communicators (I'd argue Jesus tops the list) repeat themselves, it's usually because what they're saying is important and they want us to get the point.
Three times:
Do not worry… about your life.
Do not worry… about what you'll eat, drink, wear.
Do not worry… about tomorrow.
But isn't that exactly what we're tempted to do? Worry about every minute to Titanic detail of our lives? What will we eat? What will we wear? Where will we live? How will we make a living? When's our next acting gig? Will we ever place a song? Will we get the right contract? How will we pay our bills? When will be be healthy again? What about our children? What about our relationships? Will he love me? Will she respect me? What will people say?
Worry, worry, worry.
Jesus says, "Not!" (My paraphrase)
Notice, He doesn't say that there won't be things to worry about. Obviously, we all have needs. He simply advocates making the choice NOT to worry.
Neither does He say shirk all responsibility and freeload. He says, "Don't worry. But seek God's kingdom and righteousness". We still have action to take. We still have choices to make.
So, how do we daily make the choice to NOT worry?
April 1st is on Sunday. Bills are due.
How? We decide to trust instead.
Jesus couches the conversation in the context of relationship and faith. He says, our heavenly Father knows we have needs. We're His children. Our father provides for His children. If we have faith and seek Him, He provides what we need. That may not include wants, per se, but we'll have food, clothes, life. Things may not be what we want them to be, but we'll have what we need, when we need it.
Does that mean our houses won't foreclose? Not necessarily.
Does that mean our relationships won't weather storms? Not really.
Does that mean we don't ever face physical challenges? No.
Jesus says each day will have enough trouble of its own (vs 34). That sounds to me like we will DEFINITELY face some issues. This explains why many of our lives, including my own, have been so "adventurous".
The key is, when we do face hardships, we may have to go against our human norm and consciously make a decision to NOT worry about them… because we have a heavenly Father who will provide what we need.
If life is particularly challenging right now, please know that I get it. I really do. I really do. And I'm not making light of our circumstances. They could be horrific. And I don't advocate faking the funk and slapping on a phony smile of pretense.
The best advice I can give is to be completely transparent and honest with God about what's going on and how we feel about it and ask for 3 things:
1) His intervention
2) grace to wait on His timing, and
3) the ability to trust Him more.
Let's really press in during the whirlwinds.
There's a reason that Bobby McFerrin's anthem became the first a'cappella song to reach #1 on the Billboard Chart. He tapped into our universal desire to hope. Deep down, I believe most people really don't want to worry. Who wants neck and shoulder pain, hair thinning, headaches and ulcers? That's not cute. Most of us truly hope for the day when "Don't worry, Be happy!" is our reality.
When we follow Christ, we know that hope will become a reality in eternity. But I also believe we can actualize that hope to some degree on this side of heaven. And it starts with making a decision to trust God with all our concerns, talk to Him candidly about them, and seek Him and His way of doing things… which includes NOT worrying.
I'm embracing this today.
What about you?
C'mon all together now:
Here's a little song I wrote
Might wanna sing it note for note
Don't worry, Be happy…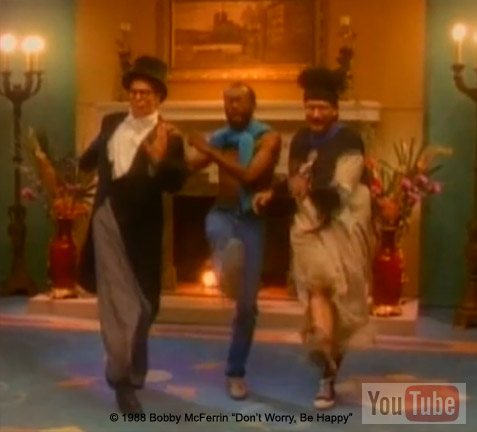 RESPOND or SUBSCRIBE to BLOG below.
Facebook, Twitter
DAILY PRAYER (LENT):
1) Confession & Repentance – Let's confess our wrongs and ask forgiveness
2) Complete transparency – Let our guard down and talk to God about our lives.
3) Listen – Let's quiet and listen to God's Spirit re: the scriptures, etc.
4) Intercession for others – Let's pray for our family, friends, coworkers, church, etc.
____________
SUBSCRIBE to BLOG
Get BLOG via Email
Enter your info: (*required)