Half Worker/Half Warrior. Day 17/40
Naima Lett | Blog | Monday March 12 2012
DAILY DOSE OF HOPE – BLOG – NAIMA LETT
HALF WORKER – HALF WARRIOR | Day 17 of 40 (LENT)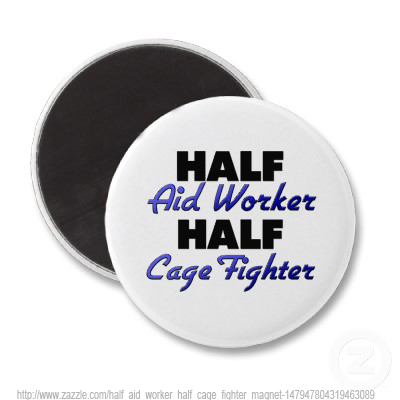 I'm not a violent person, but the picture above caught my attention.
"That about sums it up!" I thought to myself when I saw it.
What would you say you are?
1/2 what? 1/2 fighter?
'Cause believe it or not, if we plan to complete our work, many times, we've got to be prepared to fight for it!
Hope you had a great weekend of reflection and thanksgiving. Those are fun.
Happy Monday! We're back with Nehemiah. These chapters are so good.
In Chapter 1, we put "First Things First".
In Chapter 2, we got "Ready for Yes"!
Today, in Chapter 4, we see God's people wielding a tool in one hand and a weapon in the other.
Day 17:
Click here to read: NEHEMIAH 4: 15-18
Whole chapter at Nehemiah 4
Nehemiah begins the work of leading the people to rebuild the walls of Jerusalem. Immediately, his enemies become angry and plot to attack.
Fam, I don't understand why Sanballat, Tobiah, and their crew are so angry at Nehemiah's work. Verse 7 says that when they hear the wall is being repaired, they become VERY angry.
Anybody understand this????
Why are folks angry at somebody else's humanitarian work? I mean, Nehemiah is rebuilding walls, not harming people. He isn't taking their property or hurting Sanballat or Tobiah in any way. Nehemiah's work has nothing to do with them. Why are they mad enough to plot an attack to stop the work? Who does that?
Can we relate?
Ever start a good work to restore and rebuild, and angry naysayers (who have nothing better to do) crawl out the wood works?
Well, we can take a page from Nehemiah on how to handle this situation.
1) Nehemiah prayed to God, then posted guards to meet the threat. Verse 9
2) He encouraged the people and admonished them to fight, if they had to. Verse 14
3) They carried a tool in one hand and a weapon in the other, and they never stopped working. Verse 17
Nehemiah did not get distracted with the antics of his enemy. He prayed to God, equipped the people, and kept working. Love it!
Notice, he didn't pretend like the enemy didn't pose a real threat. He prepared.
Verse 18 is priceless, "…each of the builders wore his sword at his side as he worked."
Now, I do not recommend we show up on the set of our next film or our 9-5 gig with a samurai sword strapped on our side, but I do recommend putting on the whole armor of God and taking up the sword of the Spirit which is the word of God. Ephesians 6:10-17
Let's pray, encourage each other to fight (if need be), and carry our tool in one hand and weapon in the other.
We've got work to do, and we can't stop 'cause somebody else is angry or bothered for no good reason.
I love this quote by Academy Award nominee Viola Davis in her Oscar Interview with Oprah Winfrey. When talking about overcoming self-esteem issues and discrimination and valuing her husband, daughter and work, Viola says, "I don't have any time to stay up all night worrying about what someone who doesn't love me has to say about me…"
Isn't that liberating? Who has time for the enemy's distractions?
Be encouraged today, Fam.
Let's pick up our tools and weapons and keep building.
Nehemiah and God's people kept working and rebuilt that wall in 52 days.
What are we working on?
What will we knock out in the next 60 days? 90 days? 12 months?
Today, my button says: 1/2 worker, 1/2 warrior.
What does yours say?
Go forth!
Naima
DAILY PRAYER (LENT):
1) Confession & Repentance – Let's confess our wrongs and ask forgiveness
2) Complete transparency – Let our guard down and talk to God about our lives.
3) Listen – Let's quiet and listen to God's Spirit re: the scriptures, etc.
4) Intercession for others – Let's pray for our family, friends, coworkers, church, etc.
____________
SUBSCRIBE to BLOG
Get BLOG via Email
Enter your info: (*required)