Clear Why We're Here
Naima Lett | Blog | Tuesday April 24 2012
DAILY DOSE OF HOPE – BLOG – NAIMA LETT
CLEAR WHY WE'RE HERE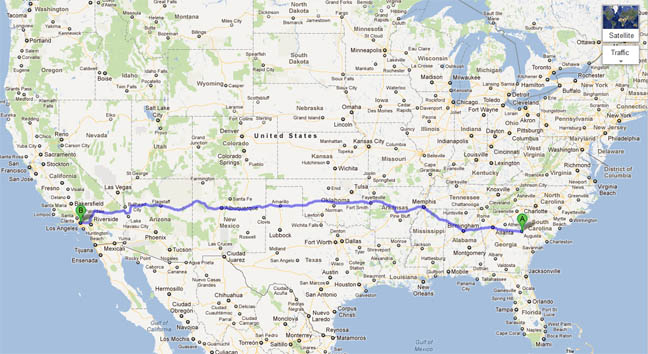 Do you know why you're here?
Any idea what your purpose is?
Got a vision? Personal mission statement? Plan of implementation?
The first time I drove cross country I was a junior Acting major at Howard University. It was January, and I looked forward to exchanging East Coast snow for palm trees and a warm breeze. I packed my candy-apple-red, 2-door Honda Civic to its roof, and set out for my semester abroad at the University of Southern California in LaLa Land.
Before I hit the road, I got a map.
I figured out the best route to travel, how much gas I needed, where to eat, how much money I'd spend, friends and fam I could see along the way, hotels, and safe cities to lodge, since some towns could get a little dicey for folks of hue after dark. I'd be leaving from my dad's house in the South and knew there were some obscure towns where you didn't want to be caught out by the cops at night. I planned my map accordingly and coasted into 80 degrees and a saltwater breeze within 4 days.
What if I had begun my journey without a map?
What if I just got in my car and drove- no plan, no money, no food, no lodging?
And that's for a simple 38 hour, 2400 mile road trip.
What if I told you I was driving cross country for the first time and you asked me questions about the trip, and I said, "I don't know. I think I'll just wing it"? You'd probably be a little concerned for me… or at least offer to pray because you knew I might not make it.
Can I ask the hard question?
How many times do we set out on life's journey with no map? No plan, no vision, no clear destination. Or we have a destination, but we have no strategy to actually get us there. And when others who genuinely love us raise concerns, we say they're killing our dreams or cramping our creativity or trying to box us in?
I've found my artist fam to be particularly adverse to planning. We want to be free. We love winging it; and if we love the Lord, we just say, "He'll take care of it!" And then we look up a year later when we haven't garnered any work and blame the Hollywood system.
A plan, in and of itself, doesn't guarantee success. But having a clear vision of why we're here and making a road map for the journey does make reaching our goals a lot more likely.
Jesus has a very clear purpose. He knows exactly why He's on the earth (John 12:23-28). And when he advises those who would be His disciples, He insists that they also count the costs.
Today's Meditation
Entire passage: Luke 14:25-35
Excerpt below:
25 Large crowds were traveling with Jesus, and turning to them he said: 26 "If anyone comes to me and does not hate father and mother, wife and children, brothers and sisters—yes, even their own life—such a person cannot be my disciple. 27 And whoever does not carry their cross and follow me cannot be my disciple. 28 "Suppose one of you wants to build a tower. Won't you first sit down and calculate the cost to see if you have enough money to complete it? 29 For if you lay the foundation and are not able to finish it, everyone who sees it will ridicule you, 30 saying, 'This person began to build and wasn't able to finish.' …
CLARITY
Jesus is real clear. He knows that interwoven into His earthly purpose is a wooden cross. He tells his disciples upfront that in order to truly follow Him, they also have to be willing to carry their own crosses, which might mean giving up family, possessions, and even their own lives. They could die following Him. And many of them do.
So, He says, before you take this journey with me, calculate the cost. Consider the path.
He gives an example of building a tower and asks if they would begin building without first making a plan. He lets them know that if they don't plan, they will not be able to finish.
Jesus means this specifically when it comes to following Him, but I also believe this concept can be applied across our lives.
Let's get clear on our purpose and calculate the cost.
Before we build the building, let's make the blueprint.
Before we jump in the car, let's get a map.
THE UNEXPECTED
Having a map doesn't negate unexpected detours and potholes along the trip.
Stuff happens.
When my husband and I moved to LA a few years ago, the tire on our moving truck blew out a mile from New Mexico. It was 106 degrees. We had to wait for roadside assistance. We were delayed for hours. We had to readjust our schedule.
But as soon as we were able to get the tire fixed, we got back on the road. We still had a destination to reach.
Such it is with life.
We never expected cancer. But when we hit that pothole, hmmm… volcanic crater, we readjusted, and as soon as we could, tried to figure out how to still reach our final destination.
WHY WE'RE HERE
That was 10 years ago. And my husband and I made a decision coming out of that life detour and the year of marriage counseling it took to put us back together again.
We decided:
We might be limping.
We might be crawling.
God might actually have to carry us across the finish line, but we will finish this race, Fam.
We will do exactly what we are purposed to do.
I believe every person has a purpose and should live on purpose. I've been called a dream pusher. I love helping folks find their purpose and follow their dreams without losing their faith.
If you don't already know why you're here, let's figure it out.
We'll take some time and explore over the coming days.
Maybe you already know, but you've hit a detour. Let's figure out next steps.
I absolute LOVE this!
Can't you tell?!
Your Exuberant Tour Guide with the leopard-print belt and safari hat.
Who says we can't be stylish on the journey?
Naima
NEXT POST IN SERIES: Build Backwards
____________
SUBSCRIBE to BLOG
Get BLOG via Email
Enter your info: (*required)