B WORD
Naima Lett | Blog | Monday April 16 2012
DAILY DOSE OF HOPE – BLOG – NAIMA LETT
B WORD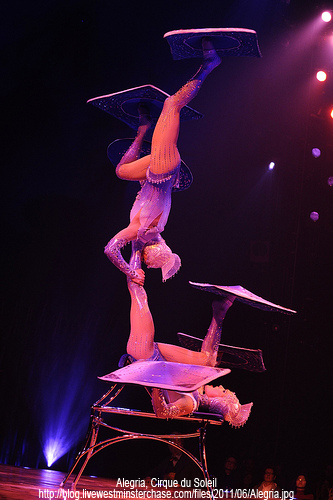 photo source

Anybody notice the primetime action the B Word is getting these days?
It's moving on up to the Eastside from hip-hop dudes and divas to network television. ABC, owned by The Walt Disney Company, seems a little obsessed. They have 2 new shows showcasing the B word in the titles: "GCB" and "Don't Trust the B in Apt 23″. C'mon, Mickey, there have GOT to be some other "B" words we can call our fam!
For example, the B Word I'm embracing is BALANCE.
And I'm not the only one. I talk to men and women all over the country who are trying to find work-life balance between home and career and it's tricky. Throw in ministry and we're talking a real Cirque du Soleil (pictured above).
My husband is probably the only one who knows this, but sometimes, my balance is off. Not just work-life-career-family-ministry-school-wife-artist, etc, but I am balance-challenged.
Which is unbelievable because I've danced shows where we're twirling and jumping and hanging from stuff. Balance is a MUST.
But there's something about the security of our home that forms booby traps or something. I walk into things. I run into walls. I slip. I fall. I've fallen down steps in our previous homes, more than once. No broken bones, thank God, but I've known my share of stairs: carpet, wood… no discrimination. Our current home is ranch. YAY!
So, when I say, I'm embracing balance, I mean on all fronts!
We started last week talking about the importance of rest: "Everybody Needs Rest".
It's true. If balance is to be achieved, rest must be part of the equation. Have you ever had a day or week or month, when you know you got things done, but it's all a blur?
Most of us have the work thing down. And there is nothing wrong with work. Scripture teaches the responsibility of work being tied to eating i.e. if people don't work, they don't eat (2 Thessalonians 3:6-10). Work is a necessary part of life.
But then, there's over-work. Like my days might run 12 – 16 hours, which is understandable when you own your own business. Or that's what I tell myself. :=) And there are seasons where work gets heavier i.e. accountants and tax day is tomorrow! But honestly, if months and years pass, and we're still running ragged, we have to ask if we're out of balance.
The scriptures don't seem to set a precedence on how many hours we can work in a day. But God is very clear that His people need a Sabbath, or time of rest.
Today's Meditation
Read below or click: EXODUS 20:8-11

8 Remember the Sabbath day by keeping it holy. 9 Six days you shall labor and do all your work, 10 but the seventh day is a Sabbath to the LORD your God. On it you shall not do any work, neither you, nor your son or daughter, nor your male or female servant, nor your animals, nor any foreigner residing in your towns. 11 For in six days the LORD made the heavens and the earth, the sea, and all that is in them, but he rested on the seventh day. Therefore the LORD blessed the Sabbath day and made it holy.
SABBATH-REST
God creates the world in 6 days and rests on the 7th day, and asks His people of Israel to follow His lead. It's so important that He made it one of the 10 Commandments: Remember the Sabbath day. He wants His people to set aside 1 day of rest per week where they do not work to demonstrate their faith in Him.
Many of God's people honor this command, especially here in Beverly Hills. Small businesses owned by our Jewish fam shut down from sundown Friday to sundown Saturday. Good luck trying to go to the post office, dry cleaners, storage unit on Saturday. Closed.
No kidding: I was getting my hair washed a couple of years ago in a natural hair salon inside a Jewish-owned shop on a Friday afternoon. At 3 PM, the owner started blinking the lights. Never mind the stylist was only finished with half my head. Hilarious! (At least now it is.)
I see examples all around, but what would it take to truly embrace this idea of rest and a true Sabbath?
For many of us who preach, Monday is our Sabbath because Sunday is a "work" day. But do we really rest on Monday? Do I rest on Mondays? Is it humanly possible to take one day a week to rest, reboot, and fellowship with God and family? What would we have to shift to make that happen?
Have you been successful?
Can you offer any tips?
Some things to think about today…
Balance-Challenged,
Naima
____________
SUBSCRIBE to BLOG
Get BLOG via Email
Enter your info: (*required)