An Actor's Take on Playing A Soldier
Naima Lett | Blog | Monday May 28 2012
DAILY DOSE OF HOPE – BLOG – NAIMA LETT
AN ACTOR'S TAKE ON PLAYING A SOLDIER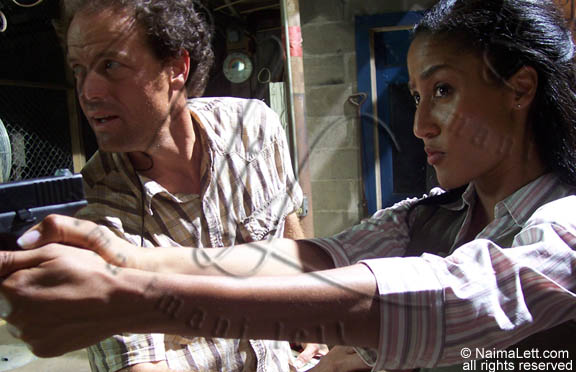 As Anita Addison in 'Wire in the Blood' ©NaimaLett.com, all rights reserved
I originally entitled this blog, "Happy Memorial Day!"
But then I thought about it and wondered, "Is happy the right word to describe the day that we honor our soldiers who sacrificed their lives fighting for our country?"
Happy doesn't seem weighty enough, does it?
"Thank you," seems more appropriate, I think.
THANK YOU
Today we thank all the men and women who have given their lives so that we can live ours.
When talking to His disciples about love and abiding, Jesus said this:
JOHN 15:13
13 Greater love has no one than this: to lay down one's life for one's friends.
Many of our servicemen and women have laid down their lives for more than their friends. So, we honor you today. We remember you today.
AN ACTOR'S TAKE
I gained a whole new respect for our men and women in uniform when I filmed an episode of the television series "Wire in the Blood" called 'Prayer of the Bone' a few years ago (on DVD now).
As attorney Anita Addison, I represented an Iraq War veteran who was suffering from PTSD. I learned so much about our soldiers and the effects of war.
I filmed for a month, had stunts & weapon training (pictured above), and sweated through a few 100 degree days in suits and sweaters. But I had nothing on the actors who played the soldiers. They had to shoot a war sequence that placed them 'in Iraq'.
My friends were fully geared in army fatigues in 100 degrees, no shade, desert conditions. It was brutal on them and the crew. Even though Gatorade flowed like water, one of our leads became dehydrated. Another producer had to be rushed to the hospital. Thank God everybody turned out alright.
But what really brought it home for me was in a conversation I had with one of my friends on set when he returned from the desert day shoot.
"How did you make it, man?" I asked.
"I don't know. I just kept thinking, our real soldiers are over in Iraq right now in conditions just like this or worse, and their very lives are on the line. I better not complain. At the end of our day, we take off the costumes and go home. Many of them aren't coming home. So the least I can do is represent them well."
Put things in a whole new perspective for me, for us.
We were doing our part to bring to life stories that would help shed light on what some soldiers endure, but we were still on safe soil. Many of them were not.
SO VERY GRATEFUL
So, to all of our soldiers who have put your lives in harms way to keep us safe, "Thank you."
And to all the families who have lost loved ones, you are in our prayers.
I especially dedicate this blog to my oldest brother and younger cousin, who are currently serving. We love you, we are proud of you, and we are bombarding heaven for you and your entire unit every day until we see you again. Thank you for protecting us.
So very grateful,
Naima
____________
SUBSCRIBE to BLOG
Get BLOG via Email
Enter your info: (*required)